Announcing Voices Share: A Better Royalty Share Option
There's about to be a great new way to make audiobooks with Findaway Voices. We're calling it Voices Share, and it's our unique take on an audiobook royalty share program. Read on to learn more.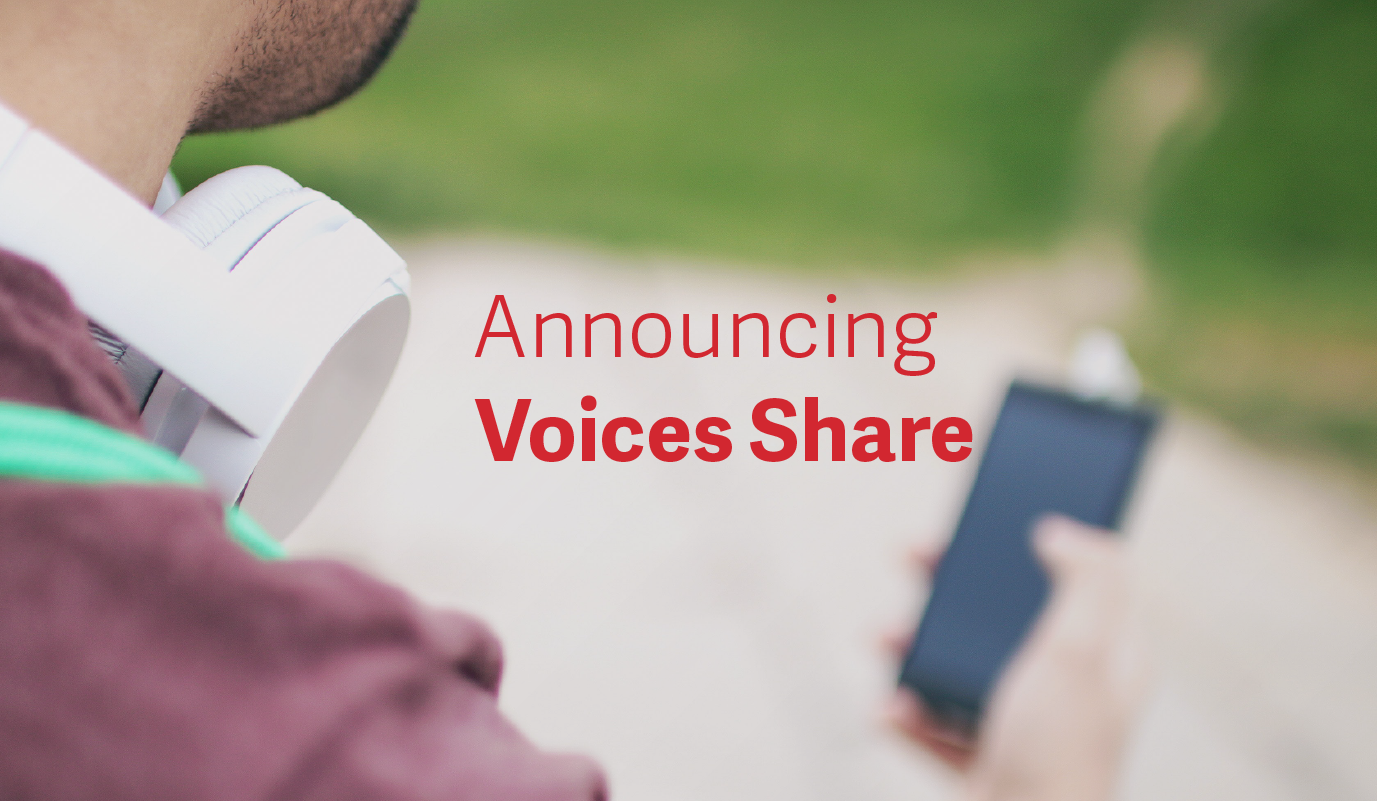 There's about to be a great new way to make audiobooks with Findaway Voices. We're calling it Voices Share, and it's our unique take on an audiobook royalty share program.
UPDATE, August 19, 2019: Voices Share is now live! Read the announcement here.
With Voices Share, authors get half-priced audiobook productions and share 20% of their royalties with the narrator for 10 years. The audiobook reaches more than 30 retailers in our wide distribution network, and authors have a buyout option in case they ever want out.
Narrators: You can now opt-in to Voices Share on your portfolio page. Casting lists for Voices Share productions will start going to authors in a few months. If you'd like to be cast for normal productions and Voices Share productions, opt-in now here!
Authors: Hang in there! Voices Share will be available to you in a few months. Make sure you're following us to hear the launch announcement.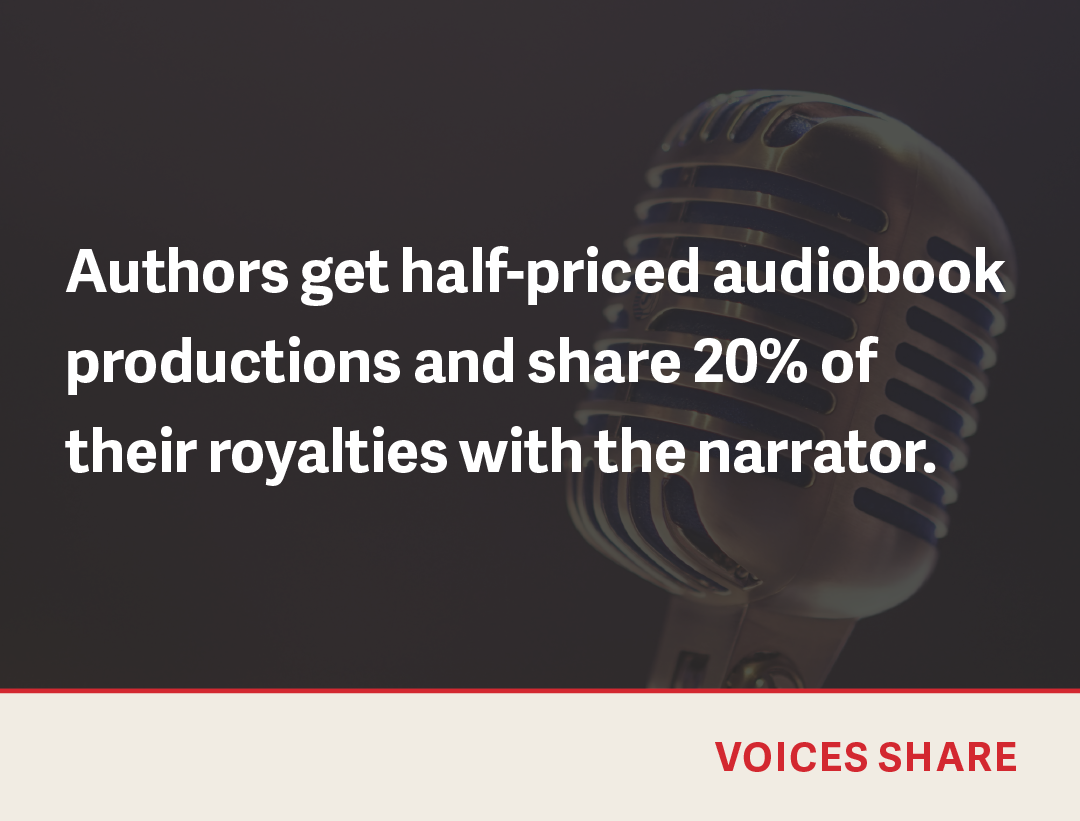 About the Money
What exactly does "share 20% of their royalties with the narrator" mean? Because we distribute to so many places, audiobook royalty rates can vary widely between partners and business models. Regardless of the sale price to the consumer, royalties are paid based on the list price the author sets (the only exception to that is Audible). Let's play out an extremely simplified example with nice round numbers (the math rarely works out this cleanly in real life).
Say an author sets their Voices Share audiobook's list price to $10 for a retail partner like Audiobooks.com, which has a royalty rate of 50%. When that audiobook sells, the royalty is $5. The narrator would get $1 (20% of the $5 royalty), Findaway Voices would get $1 (our fee is 20%), and the author would get $3 (the remaining 60% of the royalty).
What Makes Voices Share Different
We didn't want to copy the existing royalty share model—we wanted to improve it. Voices Share is different from the ACX royalty share program in 3 key ways:
1. Narrator Risk
With the ACX royalty share, narrators assume all the risk. They record, edit, and master an entire audiobook for free, and hope to make back their time investment through a share of the author's royalties on a single platform.
Voices Share makes sure the narrator always gets an upfront payment for their work (50%), while still enjoying 10 years of earning 20% of the book's wide royalties. Now narrators can enjoy sharing wide global royalties from libraries, subscription platforms, and retail services (including Audible).
2. Audiobook Cost
Voices Share isn't a free audiobook production program. Authors and narrators participating in Voices Share will both have skin in the game. Authors will need to 'pitch' their book and narrators will be able to review the pitch before accepting a project. We expect great books to be made with Voices Share. Great books where cost was previously the barrier to them being made at all, and great books with even greater narrators than an author may have otherwise been able to afford.
3. Audible Exclusivity
With the ACX royalty share, you're locked in to exclusivity with a single retailer (Audible) for 7 years. A lot can change in seven years. In the last two years alone, Google and Kobo created dedicated audio services, Storytel has expanded into several new markets, and Apple launched their new Apple Books audiobook service. Tying yourself to one retailer for 7 years is a scary proposition. No retailer stays on top forever, and there's a ton of exciting opportunity happening right now for audiobooks in new markets and channels.
With Voices Share, titles will be required to be distributed only through Findaway Voices for 10 years (we need to see all the sales so we can fairly distribute the narrator's share). During this time, the audiobook will be wide with all the retailers (including Audible) and library sellers in our distribution network, plus all the new partners and territories we're adding.
If an author ever wants out of Voices Share, there's a buyout option (we're all about freedom). For a lump payment that works out to paying 1.5× the production cost of the audiobook, you'll be out of Voices Share at the start of the month following payment. The narrator will get a surprise lump sum payday, and get to keep any shared royalties up to that point.
What Makes Voices Share Better
Ok, so you see all the ways Voices Share is different from ACX's royalty share—but why is it better? Read on to see why we think Voices Share is better for everyone involved.
Why it's better for narrators.
When you accept a Voices Share project, nobody's asking you to work for free. Make ½ your normal rate (paid at the completion of the production), so you can still pay the bills and take some more swings at residual royalty revenue.
We're giving authors a space to pitch their book, so you'll have information going in to an audition about the finished audiobook's sales potential, before you accept or deny any particular Voices Share project.
Share in 20% of the author's royalties for the next 10 years, across not only Audible, but the growing list of 30+ global retailers and library providers that Findaway Voices works with. Welcome to #teamwide.
You'll be paid your royalties monthly, with full breakdowns in the royalty report on where the audiobook is selling. Are you the next Hasselhoff in Germany? You'll know with our detailed reporting.
If the author decides to bail out of the 10-year agreement, you still get to keep all your existing shared royalties to date, plus get a kicker payment that brings the original production to 1.5x your rate.
Why it's better for authors.
You get a terrific audiobook for half the price. Which means this could be the moment you decide to create your first audiobook, decide to double the audiobooks in your pipeline, or choose a more expensive narrator for your next project.
Your audiobook will be wide, reaching 30+ global retailers instead of only Audible.
You share 20% of your royalties with the narrator, 20% with Findaway Voices, and keep 60%. We'll take care of all the record-keeping and payments for you, and you'll see detailed information about everywhere your audiobook is selling, along with real-time sales information for certain retailers.
You own the rights to the audiobook, though you grant Findaway Voices the sole right to distribute it for 10 years. And if you have any regrets, there's a buyout option so you can bail at any time.
Why it's better for Findaway Voices.
We think it's important for you to understand what's in it for us too (we did say it was better for everyone). First off, Findaway Voices is in the business of helping authors sell audiobooks, and new books sell better. Voices Share helps more new audiobooks get made.
Second, audiobooks made with Voices Share won't be locked into exclusivity with Audible, preventing them from reaching the many library systems, streaming services, and global retailers we have partnerships with. That's good for us, and good for listeners everywhere. #teamwide.
What's Next
Narrator Signups
We hope you're as excited as we are about Voices Share. If you're a narrator, you can enroll right on your Portfolio page on Findaway Voices (where you set your rate, bio, samples, etc). If you're enrolled, our casting team will be able to recommend you for Voices Share projects when we open it up to authors in a few months.
Author Signups
We're starting by opening Voices Share up just for narrators now. We have some work left to do on the author side of things, and we want to make sure we have a healthy number of participating narrators before we start casting Voices Share productions.
Make sure you're signed up to get our emails (a signup form is right below) and following us on Twitter, Facebook, and Instagram so you don't miss the launch announcement! If you have more questions, we have a dedicated section on our knowledge base here.