Feature Update: Introducing Narrator Portfolios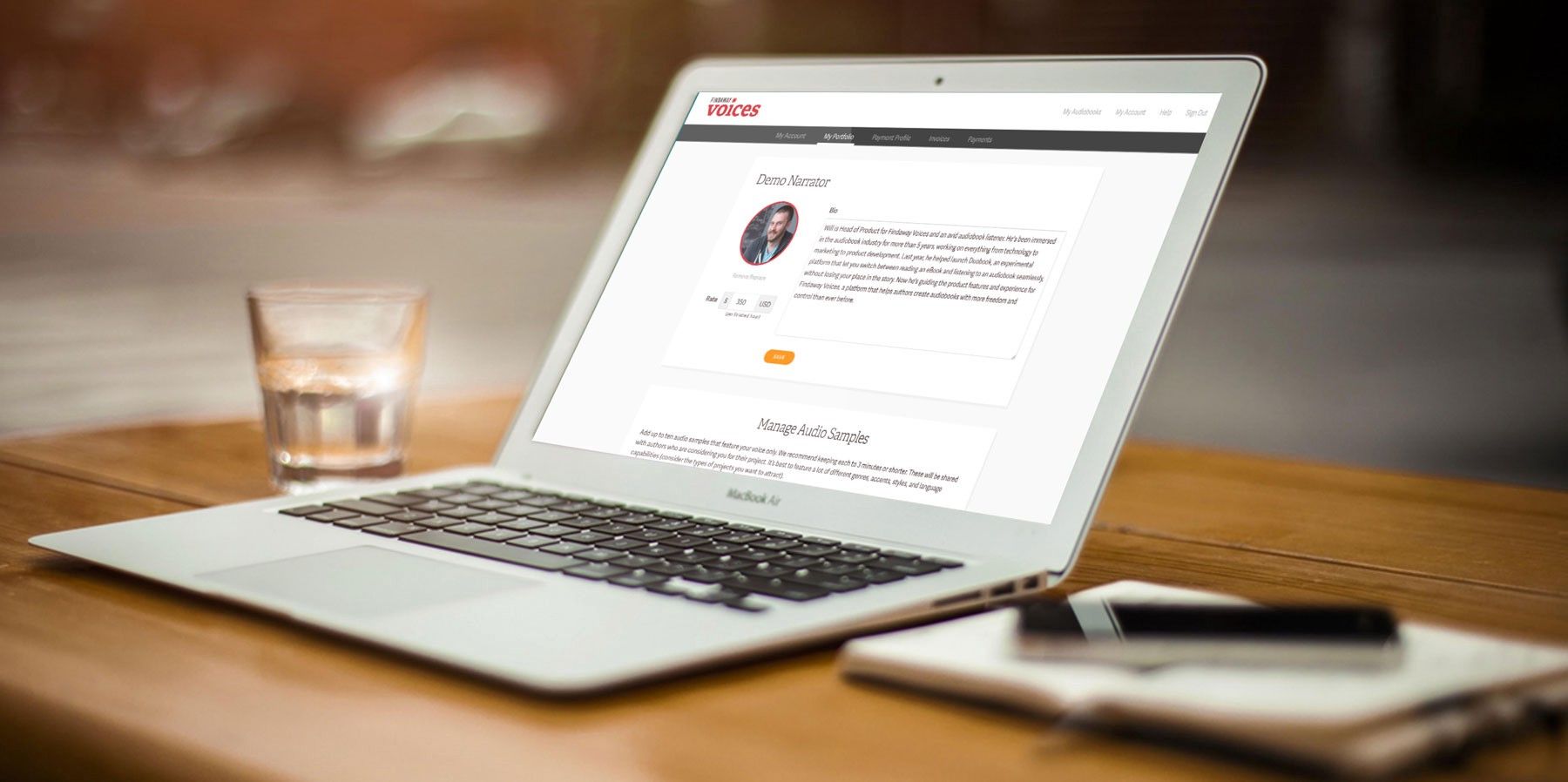 Narrators now have instant on-demand control of their portfolio, which includes their headshot, bio, rate, and audio samples.
A few weeks ago we launched a feature that gave narrators full instant control over their audio samples. Today we're excited to share that we've expanded that feature to include your bio, headshot, and rate. How can you use these new features? In this post, I'll show you what you can do with your narrator portfolio, along with some best practices to help your portfolio stand out among others.
All changes now take effect without delay. It's a great time to review your Findaway Voices portfolio and make sure everything is up to date.
How to get to your portfolio
To access your portfolio, go to 'My Account' in the top navigation, then find 'My Portfolio' in the subnavigation. Or click here and to jump right in: My Portfolio (narrators only).

The information on this page drives the view that authors see when reviewing a casting list.
We don't provide external-facing public links for individual narrator portfolios, but the information you're adding here is what you want authors to see when they're considering you. Your information will show up in a casting list (created by our team) of usually around 6–10 narrators who we identify as great candidates for an author's project.
Consider your personal brand
As you craft your portfolio, consider how all the pieces of information fit together for your personal brand. Tell a cohesive story, and make sure you're selling yourself. I'll share some best practices ahead in this post, but feel free to experiment and figure out what works for you.
How to make your portfolio work for you
Here are a few recommendations and best practices to keep in mind when you tackle updating your portfolio.
Your Headshot: Making a great first impression
You may think, "why would an author care what I look like, they should only care about my voice!"
Your headshot may not be the most critical factor in an author's choice of narrators, but it's the only visual piece of information in your portfolio. This means that it is also likely the first thing that will draw their attention, and is your best shot at making a good first impression. Your headshot can be an opportunity to reenforce your professionalism and attention to detail.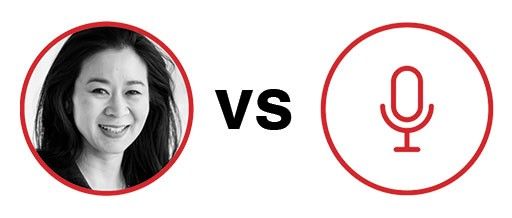 Most narrators use a picture of themselves. Either a professional headshot, or an action shot from a recording booth. Some choose to use a more generic stock image—whether due to privacy concerns, or simply lack of a high quality photo (we recommend avoiding selfies).
Whatever you choose to use, make sure it fits with the personal brand you're trying to promote— it should work well with everything else on your portfolio. If you don't upload a headshot, we'll set a default placeholder for you (pictured above).
Your Bio: Making it impactful
You have 750 characters for your bio. Your space is limited, so use it wisely and stay focused. Keep your audience in mind and don't get too technical about your equipment or editing setup. Your audio samples will represent your quality potential better than a gear list. It's better to focus on your experience and past projects, the care and passion you put into them, and how you like to work. That's what matters to an author. Showing some personality is great, and quirkiness can be effective in moderation — just don't overdo it. You are trying to sell yourself, not entertain an author. We don't allow formatting in your bio, so don't try to rely on bold or large text to stand out. You are welcome to paste in links, but keep it to a minimum.
Hey, that last paragraph happens to be exactly 750 characters. You sure can fit a lot of information into that space! 😉
Your Rate: Timing on updates, and what it entails
As an independent contractor, narrators have always had full control over their Per Finished Hour rate. Now that rate changes happen instantly across the site, there are a few things you may wish to keep in mind.
If you are currently in the audition phase of a project when you update your rate, it could potentially confuse or discourage the author who is considering you. When this happens, we'll often reach out to clarify if you'd like to honor the rate the author first saw when requesting your audition. Your rate is always up to you, and you may decline any project, but we do recommend being intentional with the changes you make to your rate in regards to both increments and timing.
Your rate should be reflective of the total amount of time and effort needed to deliver finished audio files. You are responsible for the time and cost associated with recording, editing, and uploading the performance. If you need to subcontract any of these jobs out, make sure your PFH rate is set properly to cover those expenses, and that you're working with professionals you trust. You are the one responsible for delivering the finished product.
Your Audio Samples: Keeping your showcase current
We encourage you to keep your samples up to date as your experience grows, so authors always get to hear your best work. When you wrap up a new project, take a few minutes to pull out some samples while it's still fresh in your mind and add them to your portfolio. Keep a variety of samples across different styles and types of projects that you want to attract.
For more information about audio samples, read our original announcement here:
Feature Update: Narrator audio samples
What's left for Findaway Voices to do? A little background on our casting team
You may be wondering why we haven't released this feature sooner. On the surface, this is just a few new text boxes… not too complicated, right?
The casting team at Findaway Voices listens to every new sample, sees every new headshot and rate, and reads every bio — we are passionate about knowing about the changes that happen to every narrator's portfolio.
By handling updates manually since we launched last summer, we were able to make sure nothing got by us — no new skills or awards that we were unaware of, no great new samples went unheard or unclassified. Hopefully you can tell: we care.
We wanted to make sure that when we launched this portfolio tool, we also had all the internal tools in place to keep an eye on changes.
Our casting team is now using a robust set of tools that lets us keep up with all the changes flowing through without getting overwhelmed. We can keep an eye on everything that's changing, so we're always able to make the best recommendations for authors on our platform.
Experimenting
Now that you can update your portfolio at any time, it's easier than ever to do some experimentation. If you aren't getting many audition requests, it may be a good time to test out some tweaks to (or an overhaul of) your bio. You may also want to adjust your audio samples to better reflect your most recent projects.