Findaway Voices is excited to announce a new feature to its new Marketplace platform. Authors are now able to add narrators directly to their casting list on their Findaway Voices project from a Narrator Profile, using the Add to Casting List button. This means authors can now start a casting list with a narrator they know or have found themselves, or supplement a list created by Findaway Voices casting team.
For Narrators, this is a great reason to start sharing your public narrator URL widely and adding a link on your website even before the Marketplace search features are available.
Since Marketplace production tools aren't live yet, this feature is geared towards the existing way to make audiobooks on Findaway Voices. Any logged-in author can add a narrator to a casting list as long as the project doesn't already have an assigned narrator.
So how do you add a narrator to the casting list of an existing audiobook project? Simple. On a narrator profile, you will see a teal Add to Casting List button to load a list of your projects that you can add the narrator to the casting list for.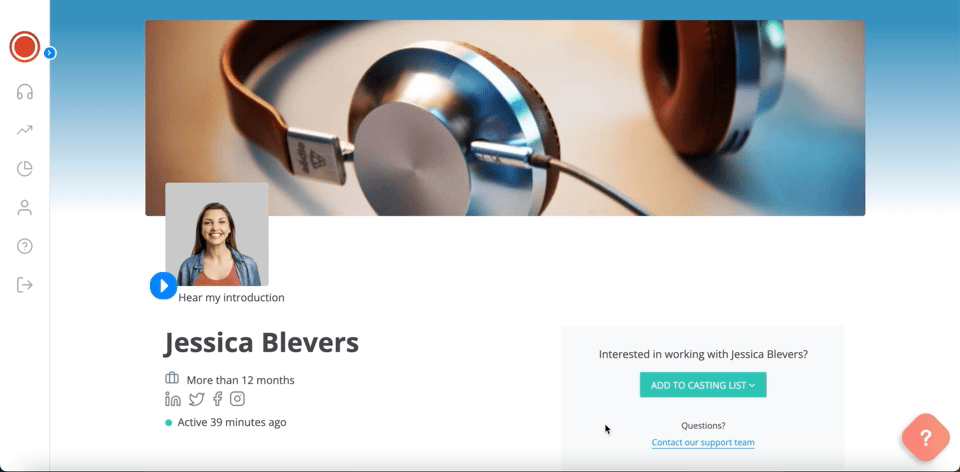 Select the project you want to add the Narrator to, and the narrator will be added to the casting list. From there, you can request an Audition from the Narrator, or choose to book them as the selected Narrator for your audiobook production.
Don't have an existing audiobook project started? Not to worry, it's easy. To create a new project from the Narrator Profile, Simply click the teal Add to Casting List button, and at the bottom of the list, there will be an option to + Create New Project.
Select this option to create a new audiobook project, and add the selected Narrator to the newly created projects' casting list.