The Ultimate Guide to Marketplace Narrator Profiles Part 5: Your Bio & Badges
Isn't writing what the authors do best? Now it's your turn to write something memorable and showcase your talent and experience.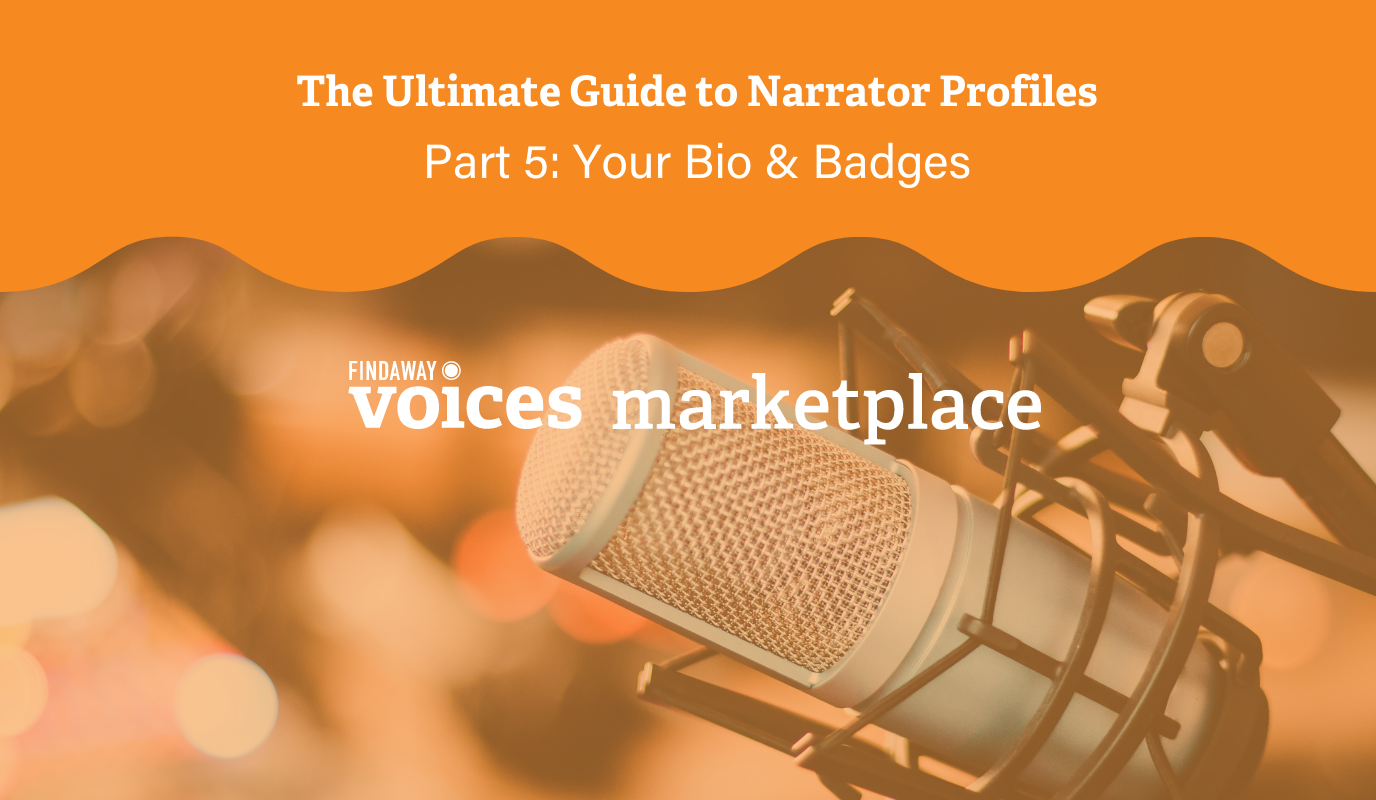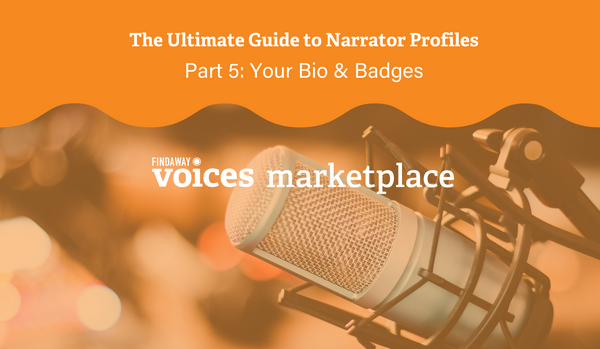 Isn't writing what the authors do best? Now it's your turn to write something memorable and showcase your talent and experience.
First thing to take note of is that you're being evaluated for a job by a person who writes for a living. This means no typos, correct grammar, capture them in the first sentence, and keep it professional. It's nice to add some personal anecdotes to add character and humanize your bio, but ultimately you want to showcase your talent and experience first.
When writing your bio keep in mind that you're building a relationship through your words. Keep your sentences on the shorter side. If you're using an em dash, it's probably too long.
Things you'll want to cover in your bio are your vocal experience, education, genres, awards you've won or have been nominated for, quotes on your work, and why you're a great choice.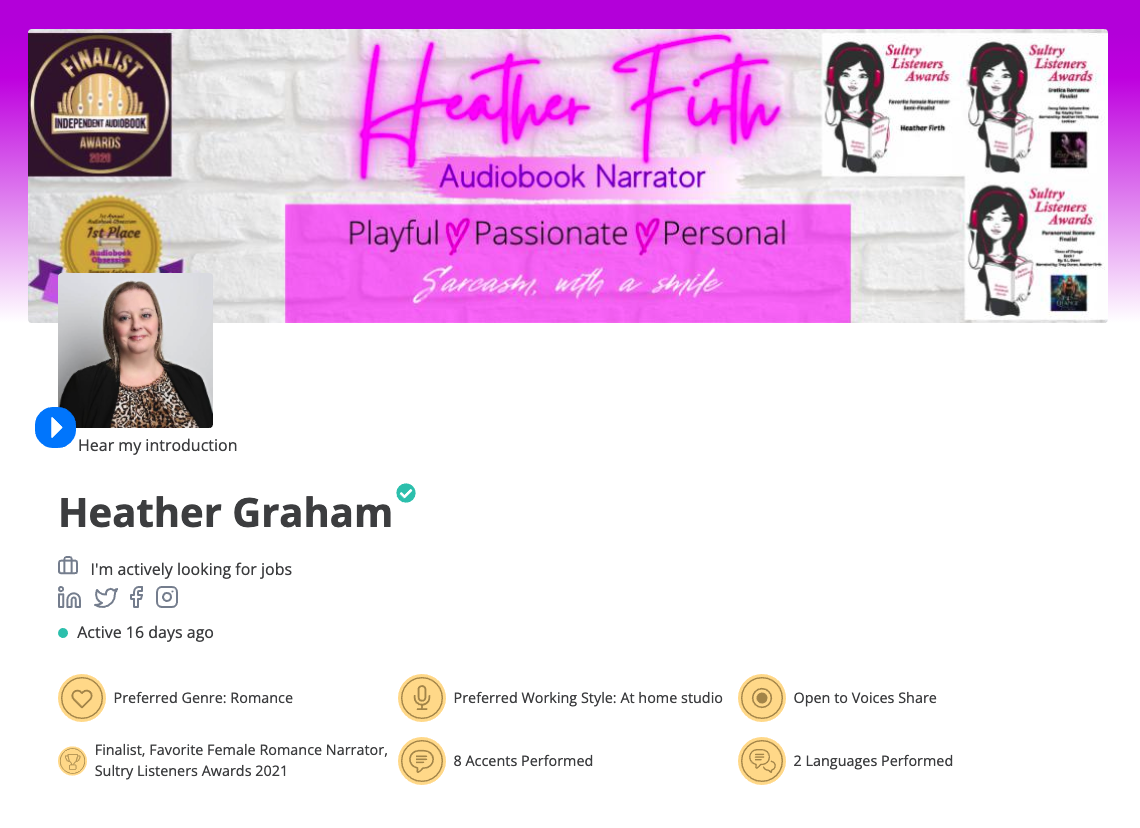 One nice example is narrator Heather Graham. She starts her bio off with keywords and the tagline "Breathing magic into your words and worlds". Then she uses the star emojis around being nominated for a best performance award before moving into her narrative. She's made her copy feel big, showcased relevant experience, highlighted genres she performs, and ends with a quote from a review.

PASSIONATE, ENGAGING, SPIRITED - BREATHING MAGIC INTO YOUR WORDS AND WORLDS ★ Nominated for Best Performance in an Audiobook (Fiction) at the One Voice Awards 2021 ★ Heather is a British voice artist, actor, and singer. She's recorded audiobooks, audio dramas (including BBC classics), lyrical narration for art films and games. Her versatile character voice encompasses a wide range of ages and accents. Audiobook genres include Urban Fantasy, Romance, Crime, and Cozy Mystery. "Some of the best, most entertaining narration I have heard to date!"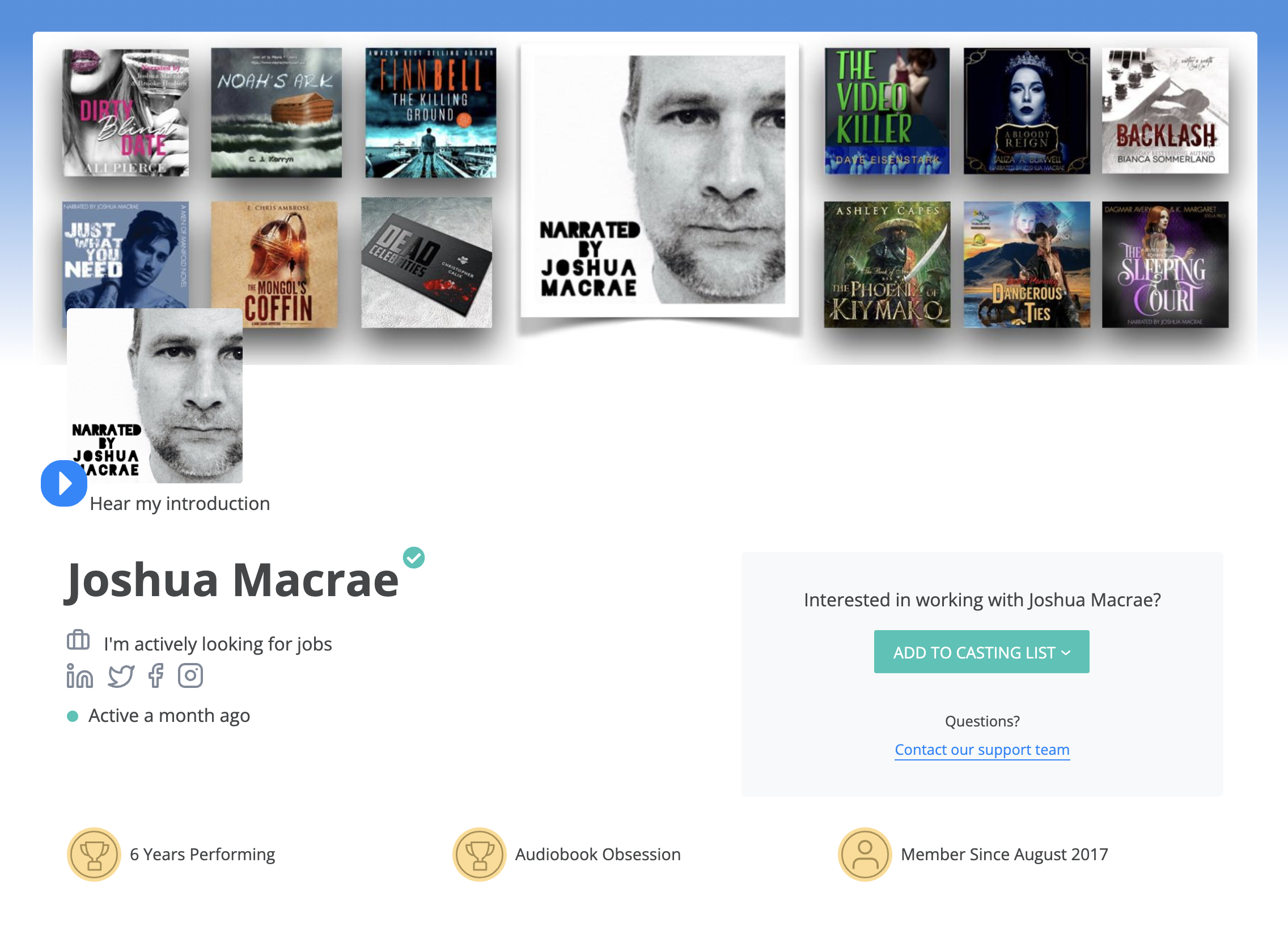 Narrator Joshua Macrae ends his bio describing his personality and multiple talents and then adds a little bit of whimsy as a family man.
After graduating the Actor's Training Program at Solano College in 1999, Joshua has performed throughout Northern California garnering Sacramento Area 'Elly' and 'Arty' Awards for his stage work and 'Audio Book Obsession' Awards for his work behind the microphone. He discovered audiobook narration in 2015 and hasn't spent a day away from the studio ever since. He is an accomplished musician, writer, satirist, and can solve a Rubik's Cube in under five minutes. Which is really impressive if you're not his teenage son; who can do it much much… much much faster.
Your narrator profile also has six badge highlights you're able to choose from to add even more depth to your profile. Those are:
Member since (sign up date)
Preferred Genre
Open to Voices Share (yes/no)
# of languages performed
# of accents performed
Preferred working style
# of voices ages performed
# of years performing
# of minutes recored on platform
# of audiobooks completed on FWV
# of genres completed
% completion on time

We really encourage you to maximize the use of this section by populating as many as possible. This is essentially the "At a glance" version of your long-form narrative text bio. It provides the author a quick look at your credentials as an audiobook narrator and a valuable tool for you to use in your profile.
The most important thing to remember when writing your bio is that a professional author is reading it and professionalism will go a long way. Just like writing a book, you've got a first draft, a developmental edit, a line edit, and proofreading that come together to make a great product. This is your chance to author your story as a narrator! Happy writing.