The Ultimate Guide to Marketplace Narrator Profiles - Part 3: Your Header Image
Your header image gives an author a visual feeling for your voiceover work when they first click onto your profile from the search results. Learn more about maximizing this powerful element of your narrator profile.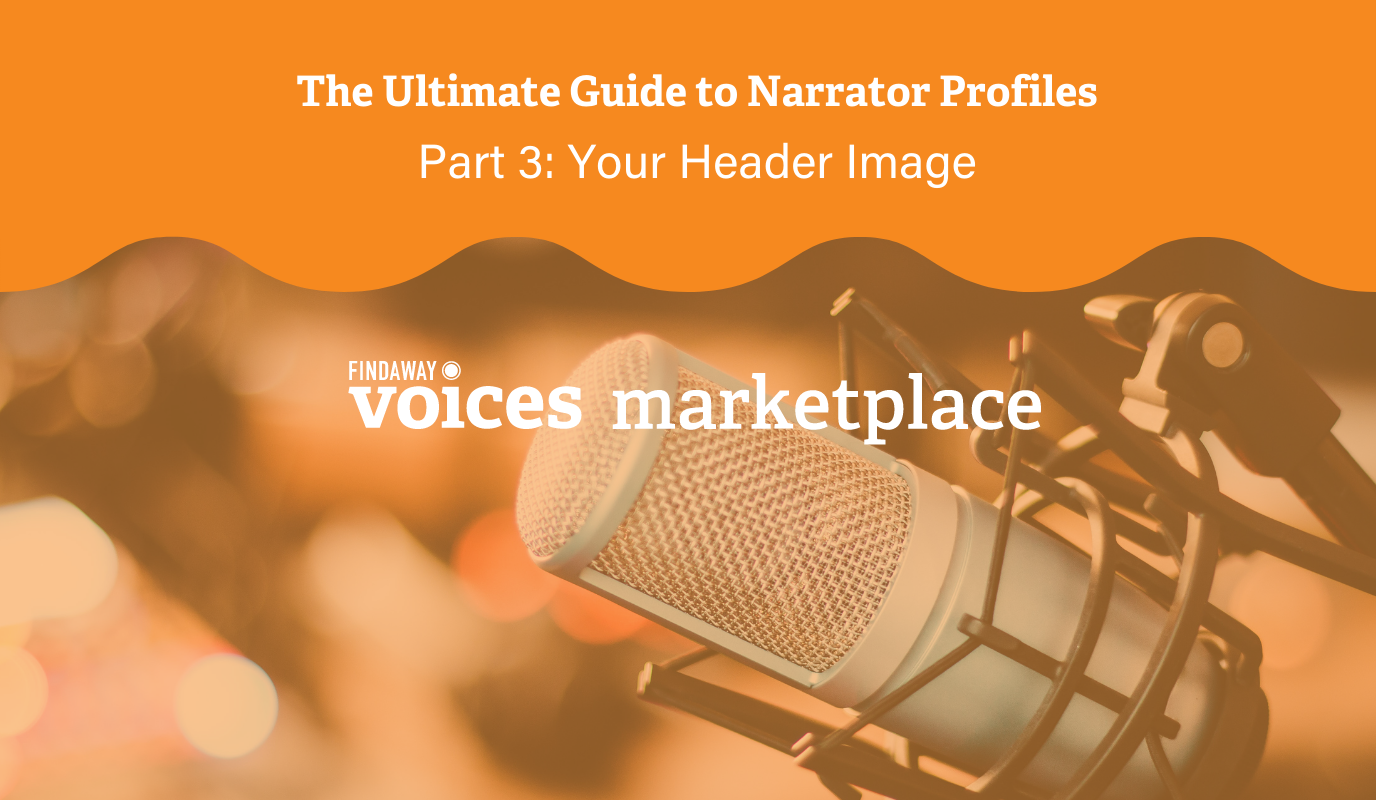 Your voice is the keystone of your narrator brand, but you'll need to exercise some basic design principles to make your Marketplace profile stand out from the crowd. If you're not a designer, no problem, we'll make it simple for you to follow along and you can always find some affordable hired help on the web.
A complete profile doesn't just have a profile picture and samples. Your header image gives an author a visual feeling for your voiceover work when they first click onto your profile from the search results.
Let's start with a little bit of design 101, a cohesive look and feel using the three elements you're able to control: background color, header image, and avatar image. We're focusing on the header image in this particular article, but all three need to work together in concert to maximize the effectiveness of your profile as a whole.
Consider the old 60/30/10 rule when choosing your color palette for your profile page. You're going to have 60 percent white background below, 30 percent neutral colors, and 10 percent accent colors. The 10 percent is what people focus on, make it count for what you want them to notice.
You have the ability to choose a background color that surrounds your header image. Note that the background color naturally fades to the white profile background color. The color itself, or lack thereof, has the ability to change the color palette and feel for your entire profile page when you take into consideration the relationship between the three aforementioned narrator-controlled visual elements. One common method designers use to look at the overall visual composition and color balance of a piece is to employ a quick squint test. To do this, sit back from your screen a bit and slowly begin squinting your eyes until the image blurs and you can see just the overall composition colors and shapes. You'll do this after you've designed and uploaded all the elements.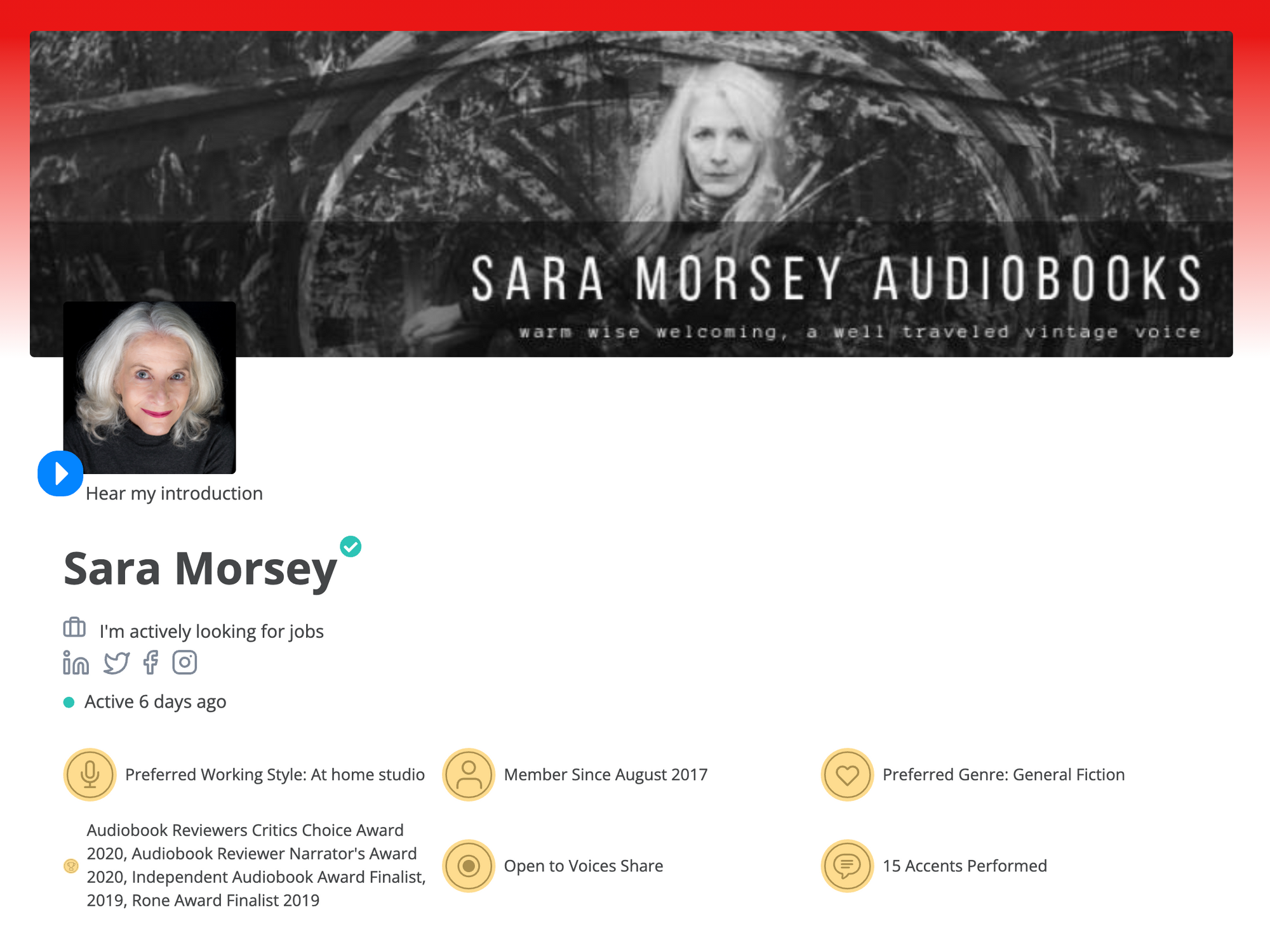 Typography is a powerful tool in the designers playbook and authors notice what a typeface evokes. The typeface you choose for any key messaging within your header image will say a lot about your narrator brand. Using a sans-serif typeface (think Helvetica) will provide a more modern feel, a serif (think Times New Roman) brings forward a more traditional feel, and script or handwritten typefaces are personal. We're using very broad terms here and there are entire books on the topic. Think about how well Netflix uses type to establish a brand feeling for an individual show title, you're attempting to do that here in your header image. Not that you have to use type in your header image, but if you do, take heed and put some intention and thought behind it like a graphic designer does.
First order of business in designing a header image is to set the size of the document to the recommended dimensions of 1100 width x 300 height in pixels, RGB, at 72dpi. You can do this in a free tool like Canva.com or amazingly the professional tools of designers like Adobe Photoshop are now accessible in their pricing at $9.99 per month.
Showcase a collage of covers of audiobooks you've produced like narrator Joshua Macrae.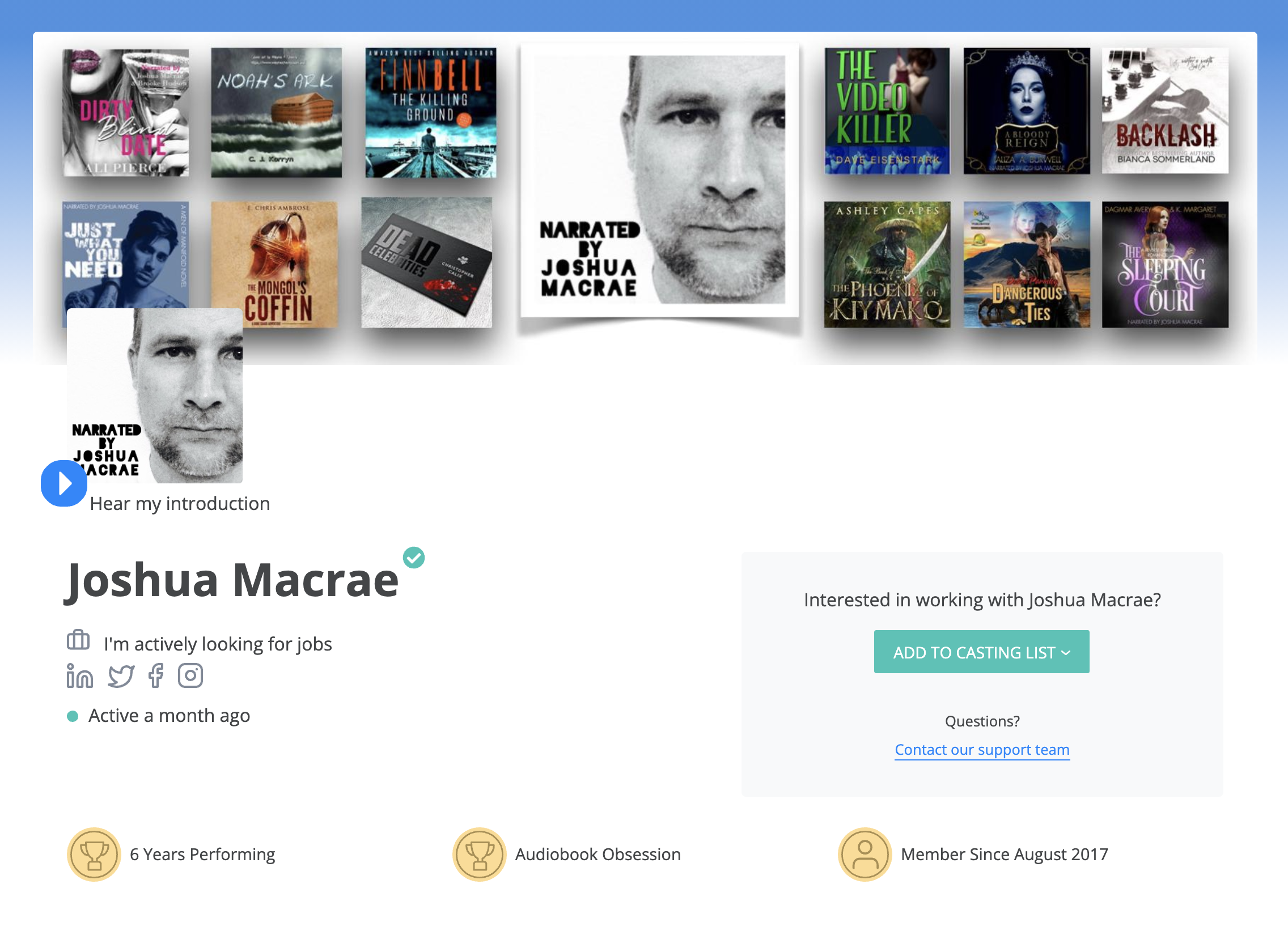 Highlight awards and nominations you've received for your audiobook narration work like Heather Tracy.
Written tagline or words describing your voice and genres. For example, The Smooth and Sensual Voice if you're narrator Ian Russell The British Voice. Ian's profile header image uses a typographic logo and tagline and the red background color and blue shirt within his avatar image create a calm, collected, and visually pleasing brand—very British indeed.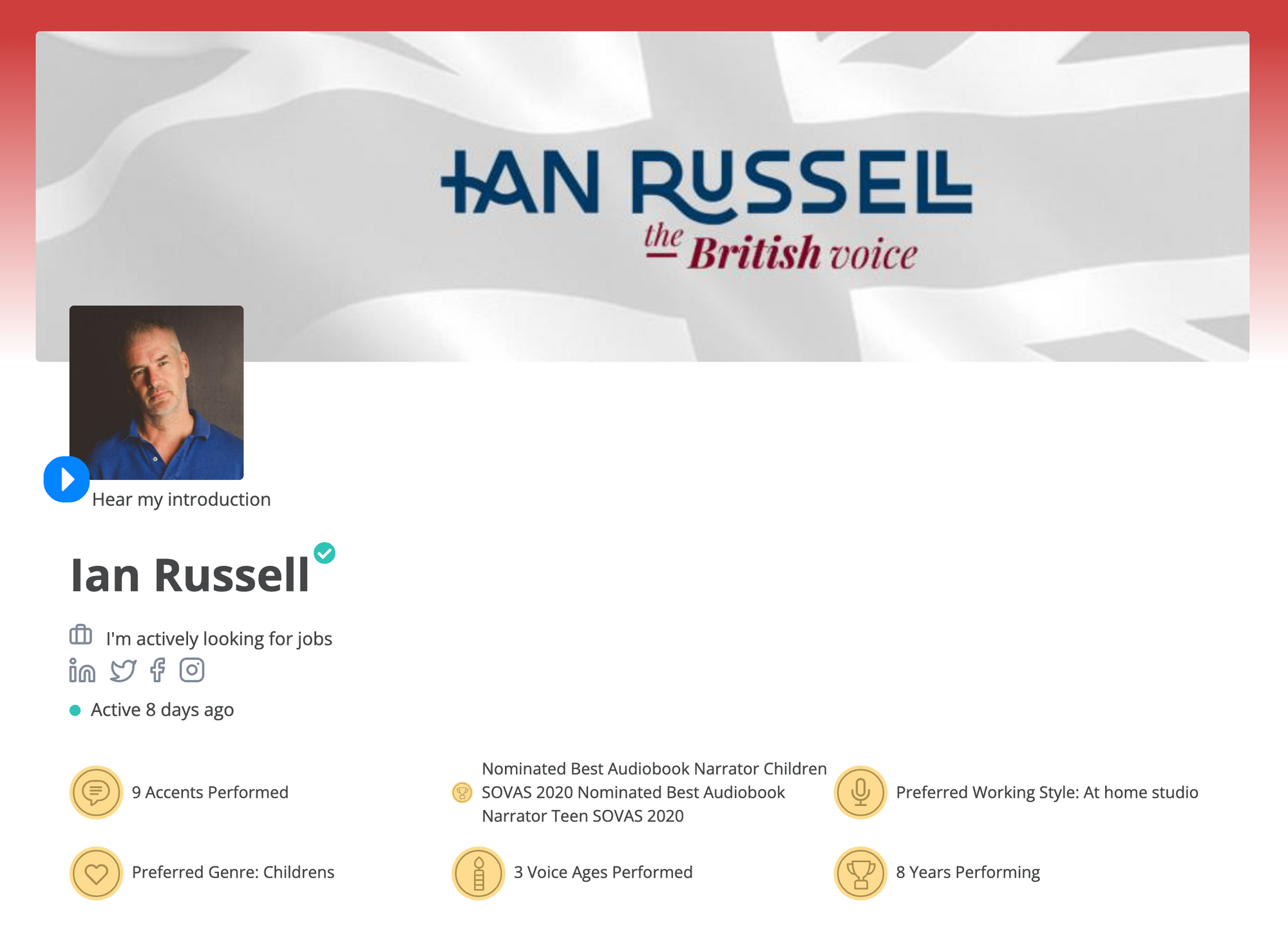 Here's a quick idea list of some of the things we've seen so far from Marketplace Narrator profile header images. Any of the following work well:
Picture of your studio or you recording in it. Would avoid general microphone only stock art or photography because that's not telling YOUR story, a microphone is simply the tool that all narrators use—differentiate yourself with your header image.
Quotes from authors describing working with you or the craft of your vocal performance.
Exhibit quotes from listeners on your work. Let the author know listeners love your voice.
Pattern language paired with a key message can be a fun way to symbolize the essence of your narrator brand.
Illustrations can be impactful and set the tone of your profile. They could be one of you recording or perhaps a scene from a book cover in your primary genre.
Photography photos that imbue the feeling of your voiceovers. You can use stock photography, but if you do make sure it's properly licensed before uploading.
The header image is a visual tool to help you book work, use it! Your competition is. When you create a profile and don't utilize a background image, it won't stand out as much as your competition.
Before hitting publish, take one last look and ask yourself, "Does this look like it will help win me new work?" If the answer is yes, publish. If the answer is no, still hit publish and get your profile on Marketplace and hit the drawing board again to do a profile refresh — you can always update it later.