Voices Share is Here!
Have you wanted to create an audiobook, but found the cost is a barrier? Today we're officially launching Voices Share, a new way to create audiobooks with Findaway Voices.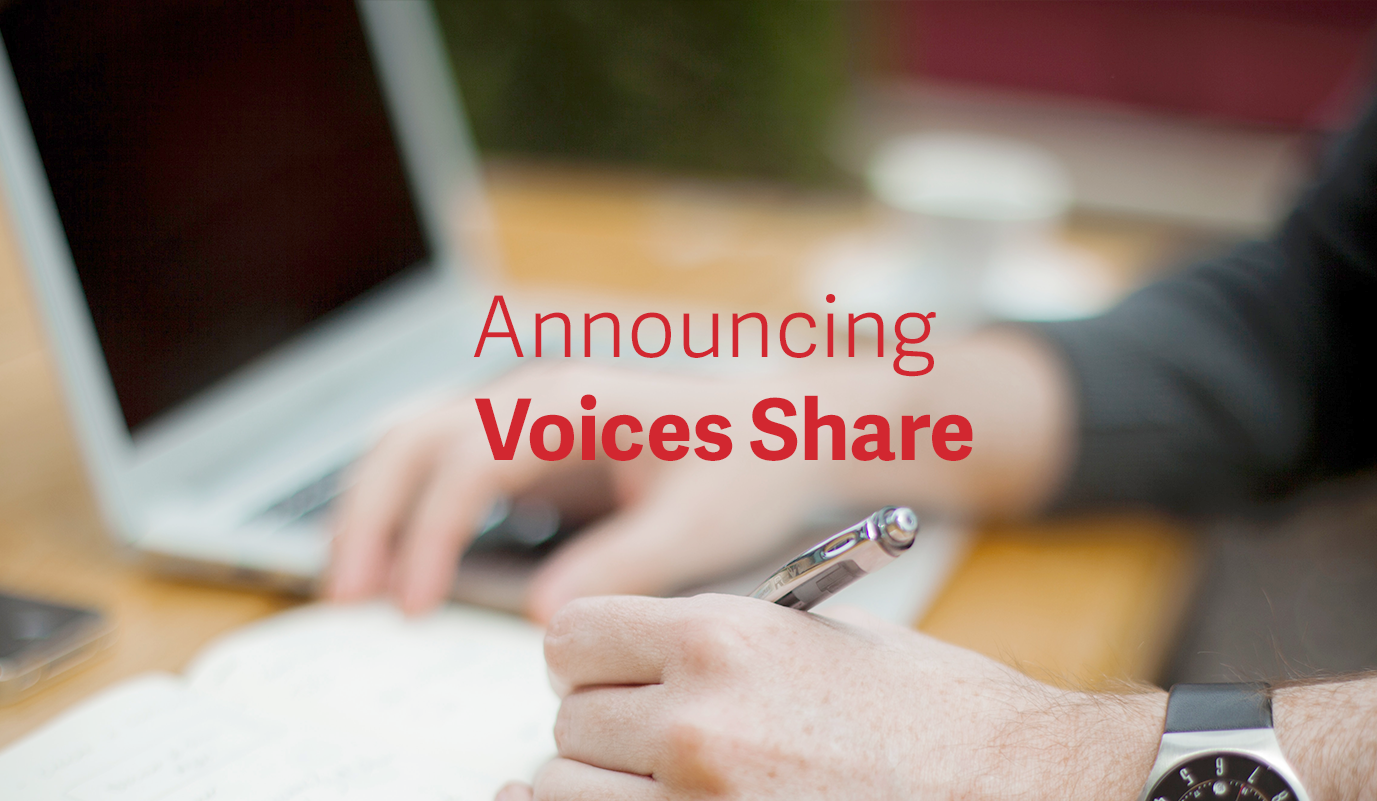 Have you wanted to create an audiobook, but found the cost is a barrier? Today we're officially launching Voices Share, a new way to create audiobooks with Findaway Voices. It's a hybrid royalty share program where an author pays half the normal cost of an audiobook in exchange for sharing 20% of their royalties with the narrator. Read on to learn more.
What is a Hybrid Royalty Share?
In a hybrid royalty share, the author pays some amount of money upfront and also shares royalties with the audiobook's narrator.
We believe hybrid royalty shares are the fairest arrangements between authors and narrators to lower the upfront cost of an audiobook, and narrators seem to agree—we were delightfully shocked at how many narrators have opted into the program.
How Does Voices Share Work?
If you've already created an audiobook with Findaway Voices, you'll find the process very similar with Voices Share. You still get a personalized casting list from our team, and you get to choose your narrator. When the production finishes, your audiobook gets to reach the entire listening world thanks to our network of nearly 40 global audiobook sellers and library systems.
It's not exactly the same, though. Here are a few ways that Voices Share productions differ from full-cost productions.
An application process: When you're filling out information about your book, there will be a few extra fields to fill out. We'll ask you to provide sales and marketing information from the print/eBook (or if it hasn't been released yet, other past works of yours). Remember: narrators will be doing Voices Share projects for half their normal rate in exchange for a share of your audiobook's royalties. Providing accurate information is important so narrators are able to make informed choices.
Your production cost: If your audiobook was going to cost $1,000, with Voices Share it only costs $500. There's no haggling on the upfront production payment, just a clear price and simple discount of 50%.
Your royalties: With a Voices Share production, authors keep 60% of their royalties instead of 80% (20% of royalties collected go to the narrator). You'll still reach the same wide distribution network as any other title on Findaway Voices. Plus, when we add new retailers you'll be automatically opted-in so you never miss a new audience.
Selling Your Audiobook
When you create an audiobook with Voices Share, your title will also be part of our Voices Plus program. This means your audiobook will only be for sale through our distribution network. Since we're responsible for distributing royalties to both you and your narrator, we need to see and account for all the audiobook's sales.
Keep in mind that this is different from other royalty share programs that lock you into a single audiobook vendor. With Voices Plus, you'll reach Audible, Apple, Google, Kobo, and 30+ more global retail and library partners. You can be sure that wherever someone searches for your audiobook, they'll find it.
Buying Out of Voices Share
Voices Share has an established buyout mechanic for ending the royalty sharing agreement. If at any time you'd like to stop sharing your royalties, you can buy out of the agreement for 2× your initial payment (1.5× total).
For example: if the full-price production would have been $1,000, but you paid $500 initially, an extra payment of $1,000 (total paid: $1,500) will release you from future royalty sharing. The narrator will get a surprise payday and gets to keep all royalties collected up to that point. The following month, you'll start receiving 80% of your royalties instead of 60%.
How to Get Started
When you go to create a new project on your Findaway Voices homepage, start by choosing the option to let us match you with a narrator. You'll fill out a form that collects all the information we need to get started. Once you submit the form, sit tight for a few days while we review the application and create a personalized casting list just for you. When it's ready, you'll receive an email with instructions about your next steps!
---
If you're a narrator and want to be considered for Voices Share projects, be sure to opt in on your Portfolio page!