Four Amazing Audie Finalists
Celebrating the Audie Awards Finalists that Publish Audiobooks WIDE with Findaway Voices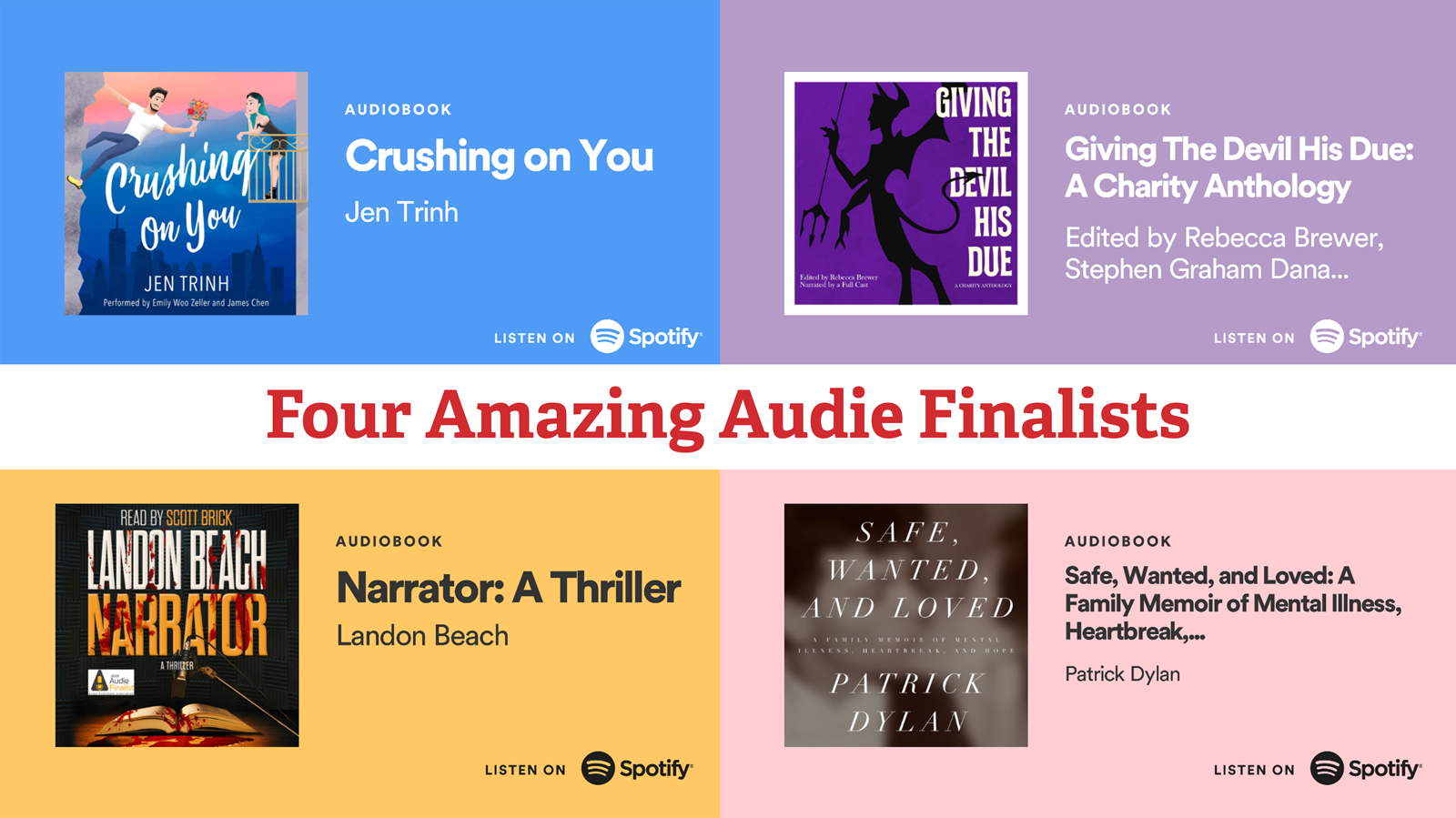 Celebrating the Audie Finalists that Publish Audiobooks WIDE with Findaway Voices
The Audie Awards® is the premier awards program in the United States recognizing distinction in audiobooks and spoken-word entertainment. Publishers and rights holders enter titles in various categories for recognition of achievement. Finalists are selected, and one winner is awarded in each category at the Audies Gala which will take place at Chelsea Piers' Pier Sixty on Tuesday, March 28, 2023. If you can't make the event itself, you can watch the live stream!
In 2023, four titles distributed by Findaway Voices were selected as Audie Award Finalists. These audiobook titles are truly special and deserve the recognition. We reached out to the authors and asked them to say a few words about being an Audie Award Finalist. Check out what they had to say below and listen to a sample on Spotify.

Crushing on You
Written by: Jen Trinh
Narrated by: Emily Woo Zeller and James Chen
Published by: Jen Trinh
About the Audiobook
An aspiring music journalist is drawn to the handsome stranger sitting next to her on a flight, but he's exactly the type of guy she's vowed never to date again. Does he have what it takes to climb the walls around her heart? Crushing on You was a finalist for Best First Book and Best Mid-length Contemporary Romance in the 2020 NJRW Golden Leaf Awards.
From the Author
"It feels unreal that my indie debut audiobook is getting this level of recognition. As a newish self-published author, I never expected to see my debut in audiobook format, period." said author Jen Trinh. "The Crushing on You audiobook was only made possible by the Audio in Color grant program, which funds debut audiobooks for indie authors of color. Without this program, I would not have been able to publish this audiobook, especially not with narrators as talented as Emily Woo Zeller and James Chen. And I certainly would not have been able to earn an Audie nomination! Many thanks to Nana Malone, Andi Arndt, Katie Robinson, and the rest of the Audio in Color team! If you'd like to support diversity in audiobooks, please consider donating to their GoFundMe.
---
Giving the Devil his Due: A Charity Anthology
Written by: Stephen Graham Jones, Lee Murray, Dana Cameron, Kenesha Williams, Kaaron Warren, Hillary Monahan, Angela Yuriko Smith, Peter Tieryas, Leanna Renee Hieber, Jason Sanford, Linda D. Addison, Nisi Shawl, Nicholas Kaufmann, Errick Nunnally, Christina Henry, Kelley Armstrong
Narrated by: Christina Moore, Brian Nishii, Nancy Wu, Robin Miles, Kate Forbes, Erin Moon, Karen Chilton, Cynthia Farrell, Edoardo Ballerini, Stephanie Cozart, Samuel Roukin, Alyssa Bresnahan
Published by: The Pixel Project
About the Audiobook
The Twilight Zone meets Promising Young Woman in Giving the Devil His Due in The Pixel Project's first charity anthology which features sixteen stories by sixteen acclaimed Horror, Fantasy, and Science Fiction authors including Stephen Graham Jones, Lee Murray, Kelley Armstrong, and Kaaron Warren who take readers on an unforgettable journey to alternative worlds where men who abuse and murder women and girls meet their comeuppance in uncanny ways. Featuring a cast of twelve of today's finest audiobook narrators including Christina Moore, Edoardo Ballerini, Erin Moon, Brian Nishii, and Robin Miles, the audiobook edition evokes the spirit of the legendary Rod Serling to tell compelling stories that will spark conversations about violence against women amongst book lovers and fandoms worldwide while sending a clear message that misogyny, toxic masculinity, and gender-based violence are unacceptable.
From the Publisher
It is an absolute honour for our charity anthology audiobook to be nominated alongside so many other worthy candidates and some of the biggest names in the audiobook world in the Audie Awards 2023. It has been a labour of love by the acclaimed authors, narrators, and audiobook producers who have generously donated their time and talent to this project. Violence against women is one of the most brutal, widespread, and entrenched human rights violations in the world and yet there remains a wall of silence around it in many cultures and families. The Pixel Project believes that stories have the power to give voice to this issue, and it is our hope that being a finalist in the Audies will bring Giving The Devil His Due to the attention of the audiobook world and audiobook fans, inspiring them to take action to stop violence against women in their communities worldwide.
---
NARRATOR
Written by: Landon Beach
Narrated by Scott Brick
About the Audiobook
Performing arts prodigy—playwright, actor, and now audiobook narrator—Shawn Frost is kidnapped by two obsessed fans, determined to make Shawn perform their novel . . . or was he?  When Shawn awakens in a hospital surrounded by nurses, his agent, and girlfriend, the quest begins to determine the shocking truth of what happened to him—think Misery meets Gone Girl.
From the Author & Narrator
"Narrator was a special project that took twenty years from start to finish.  But, in all that time, there was one person I had in mind to perform it—one person who could bring the story to life." said author Landon Beach. "And he did. I am thrilled that Scott Brick was nominated for the Best Male Narrator Audie Award; he gave the performance of a lifetime."
"I've been narrating for nearly 25 years now, but never in all that time did I feel as connected to a subject matter as with Narrator." said narrator Scott Brick. "But that's not just because it's the job I do every day; rather it's because Landon Beach cares so much about the subject matter that he went out of his way to make it far more personal, and that made it an absolute dream project to work on."
---
SAFE, WANTED, AND LOVED
Written by: Patrick Dylan
Narrated by: Raúl E. Esparza
Published by: Snow Anselmo Press with Girl Friday Productions
About the Audiobook
"Pat, we need to kill the dog." A chill ran down Patrick Dylan's spine as his wife spoke--psychosis had found their family again. When a sudden mental illness struck his wife, Dylan found himself living with an eerie stranger. Scared and unprepared, he began a desperate battle to protect her from a mysterious disease, shelter their children from her bizarre behavior, and recover the woman he loved.
From the Author
"Thanks to an amazing performance by celebrated actor Raúl Esparza, our family's story of the realities of mental illness has reached a broader audience." said author Patrick Dylan. "Only by understanding the truth of brain disease can we end the stigma. We're honored and thrilled by this nomination."