Give 'Em A Bonus
Who doesn't love a good bonus? In a sea of endless options, your readers may need a little something extra to help them decide to listen to your audiobook. That's where you need a WIIFM. As in What's In It For Me?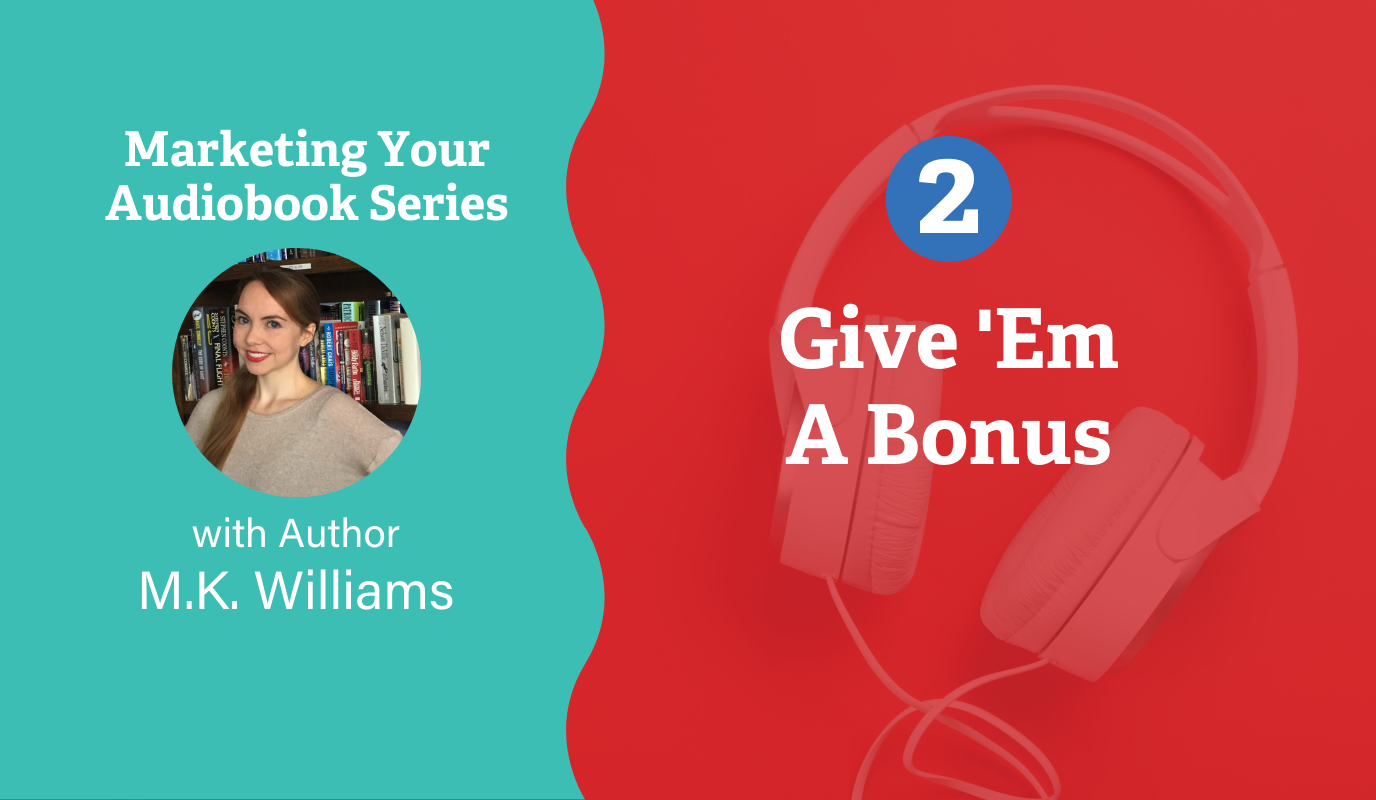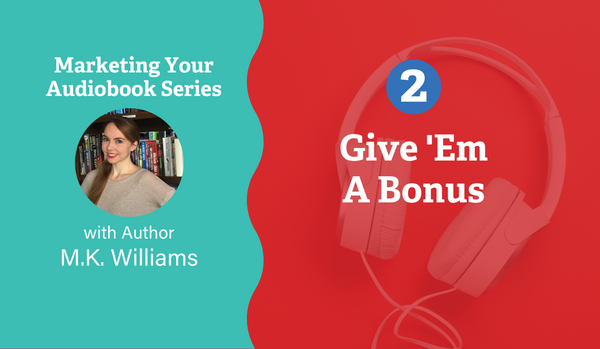 Follow our guest blogger and author M.K. Williams as she writes the Marketing Your Audiobooks Series of blog posts  
M.K. Williams is an author and independent publisher. She has written and published numerous books under her own name and helped several authors realize their dreams of publishing their books as well. After having learned the ins-and-outs of self-publishing and independent publishing she is now on a mission to help aspiring authors get the answers they need, avoid money-traps, and navigate the process of self-publishing their first book through her brand Author Your Ambition.
Who doesn't love a good bonus? In a sea of endless options, your readers may need a little something extra to help them decide to listen to your audiobook. That's where you need a WIIFM. As in What's In It For Me? Give your audience a clear reason to buy (or borrow) YOUR audiobook. What's in it for them? Well other than your amazing book, the bonus content that you'll provide.
Ideally, this is part of your book development plan from the outset. We authors have a lot to manage. This is one more item on the pile. But it can help you to know your plan BEFORE you record your audio. If you are about to release your audiobook - DON'T PANIC you can still leverage this strategy.
Make a list of some ways you can provide bonus content to your audience. This content needs to be edited and produced to the same level as the rest of the book. So don't just throw something together and cross your fingers. Take the time to make it worthwhile for your audience. But first, we need to pick what this content will be.
What bonus content options do you have?
PDF Upload with extras - great for nonfiction if you have graphs, tables, or worksheets for your audience. I offer this for my Author Your Ambition books. They each refer the reader to worksheets to help them plan for their book. I offer these PDFs with the audiobook to make it that much easier for them to access.
This is also a great option for fiction if you have a complex family tree, a map of your world, or a written bonus chapter or side story you can include that as well. This can even be a reader's guide with questions or prompts for further discussion on the book.
Findaway Voices makes this easy. When you go to upload (or update) the metadata on your Audiobook you can add one PDF to the files. You get to select if this is available to the reader before or after purchase. Boom. Super easy.
Bonus Audio Chapter - A PDF extra can be great. But the person listening to your audiobook may prefer an audio extra. This can be that same bonus content but recorded. This could be a bonus chapter, additional character backstory, a chapter that didn't quite fit, an alternative ending, or a side story.
Keep in mind that as a self-publishing author you have complete control over this. And it isn't too late to add this to your existing audiobooks. If you are working on a series, you can also go back and add the first chapter to the next book as your bonus content when that is ready. That can be a great way to keep the reader hooked and get them to check out the next story.
Author interview - While this can be classified as an audio extra it is something you should plan out. A bonus chapter or some alternative ending is content you may already have saved somewhere. The author interview, especially if it is an audio interview, will require some more planning. Who will interview you? Ideally another voice is doing this? Will all the questions be pre-planned or will you let the conversation flow? If this is with a popular podcaster in your vertical, will they also air this or invite you on to their show to do another interview to promote the book?
And now that you have lots of ideas for what the content could be, you want to pick a strategy for how to promote it:
Different Ways to Promote or Leverage Bonus Content
You can use these items as a pre-order gift. When the audiobook is still available for pre-order you want to drive sales. People who make a point to pre-order your book (in any format) are most likely to be your superfans. Giving them an exclusive reward is a great way to say "thank you." A word of caution, be sure that this bonus content doesn't contain any spoilers. Or if they do, give your readers that disclaimer. Some people don't like to know any big plot point until they get to experience the book for themselves.

Here is how to word your promotions: "Send proof of your audiobook pre-order to EMAIL@EMAIL.COM and you'll get the bonus audio now." This gives them a clear action to take. You can automate the response email with your email service provider (ESP), but if you aren't getting a ton of pre-orders you can also respond to each email. It will take a little bit longer but you have the chance to interact with your reader and personalize your message. When you send the bonus audio you can ask them for feedback and keep your reader engaged. Then when the audiobook is live you can follow up and ask them to leave an honest review.
Once the book is live it can be a post-purchase gift. You can promote this in two ways. With your regular audiobook promotions posts and your author website: "Send proof or purchase to EMAIL@EMAIL.COM to receive your audio bonus." You can use the same process as outlined above for automating the response to your reader with their bonus file. Another option is to promote the bonus opportunity in your end credits of the audiobook. "Thanks for listening, to claim your bonus audio content go to MYWEBSITE.COM/BONUS and subscribe." This option provides a double benefit for you as the author. Not only are you able to give your reader more content that will build a stronger relationship with them and get them invested in your books, but you have permission to email them about future books and follow-up with an ask for an honest review.
You could just have the bonus content included with the files from the outset to drive audiobook sales over other formats. "Get TITLE anywhere great books are sold, but if you want BONUS AUDIO, be sure to purchase it from X PREFERRED AUDIO RETAILER." As authors, we are happy to get any book sales. But some of us have specific goals around different formats. If you just invested a pretty penny in your audiobook production, you may have a goal to earn back your investment before you do additional paid promotions for the book. Leveraging the bonus content can help you to push for more audiobook sales and earn back what you put into the production.