How to Gift an Audiobook
There are so many ways to gift audiobooks that the sheer number of options can be overwhelming. We're here to break down how to purchase and send audiobooks through many of the top audiobook platforms.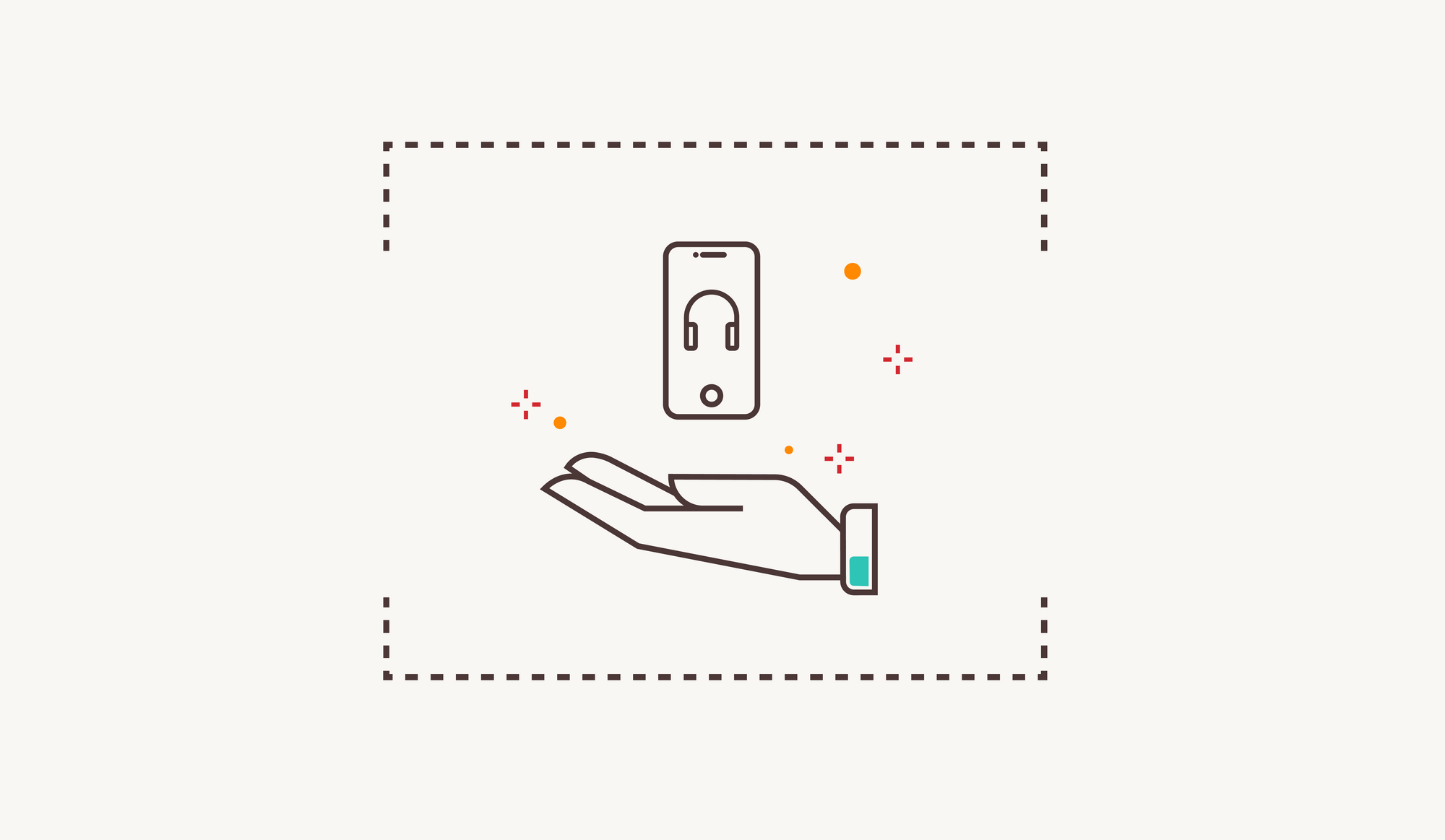 A simple guide to gifting audiobooks to everyone on your holiday list.
Gift-giving season is upon us again, and what better way to share a story with a loved one than by sending an audiobook? Audiobooks are convenient, affordable, and versatile. But there are so many ways to gift audiobooks nowadays that the sheer number of options can be overwhelming.
If giving the gift of an audiobook seems too daunting to figure out, don't sweat it! We're here to break down how to purchase and send audiobooks through many of the top audiobook platforms.
Two Methods for Gifting an Audiobook
There are two primary methods of gifting audiobooks. The first is the traditional way of sending an individual audiobook (à la carte), which has the advantage of  being able to personalize your gift selection and tailor it to your recipient. The second way (and the most popular method) is through an audiobook subscription.
An audiobook subscription gives the user freedom to choose what books they listen to, and oftentimes will still allow them to keep the book once their subscription ends. Subscriptions often work on a credit-based system — that is, a subscriber will receive a certain number of credits which can each be redeemed for an individual audiobook. Other subscriptions operate on a monthly basis, where users will be able to listen to an unlimited number of books so long as they have a monthly subscription.
If you gift a subscription, we recommend also finding a creative way to present a few recommended audiobooks to check out first, making the gift even more personal.
---
How to Gift an Audiobook on Each Retailer.
The methods listed below cover all the types of gifting, so you can find the type and retailer that works for you.
Audible & Amazon (À la carte, Monthly, or Credit subscription)
Let's start with the obvious one: Amazon's Audible. Audible is easily accessible through a number of devices, including the popular Alexa devices. There are a few ways to gift audiobooks from Amazon and Audible:
Audible Subscription: Audible subscriptions can be gifted with 1, 3, 6, or 12 months at a time, with prices ranging between $15 and $150. Your recipient will get 1 Audible credit per month, as well as two Audible Originals. If your recipient is already an Audible subscriber, they will receive all of their monthly credits up front, and the two Audible Originals.
Individual Audible Books: If you have a particular Audible book in mind for your recipient, you can easily send a copy their way! Simply find the book in the Audible store and click the "Give as a gift" link.
Amazon: If you'd like to send an audiobook through the Amazon website, you can send them a gift card– they'll be able to spend this on any Amazon purchase, but you can always suggest that they choose to spend it on a new audiobook! This will also allow them to purchase an audiobook on CD, if they prefer.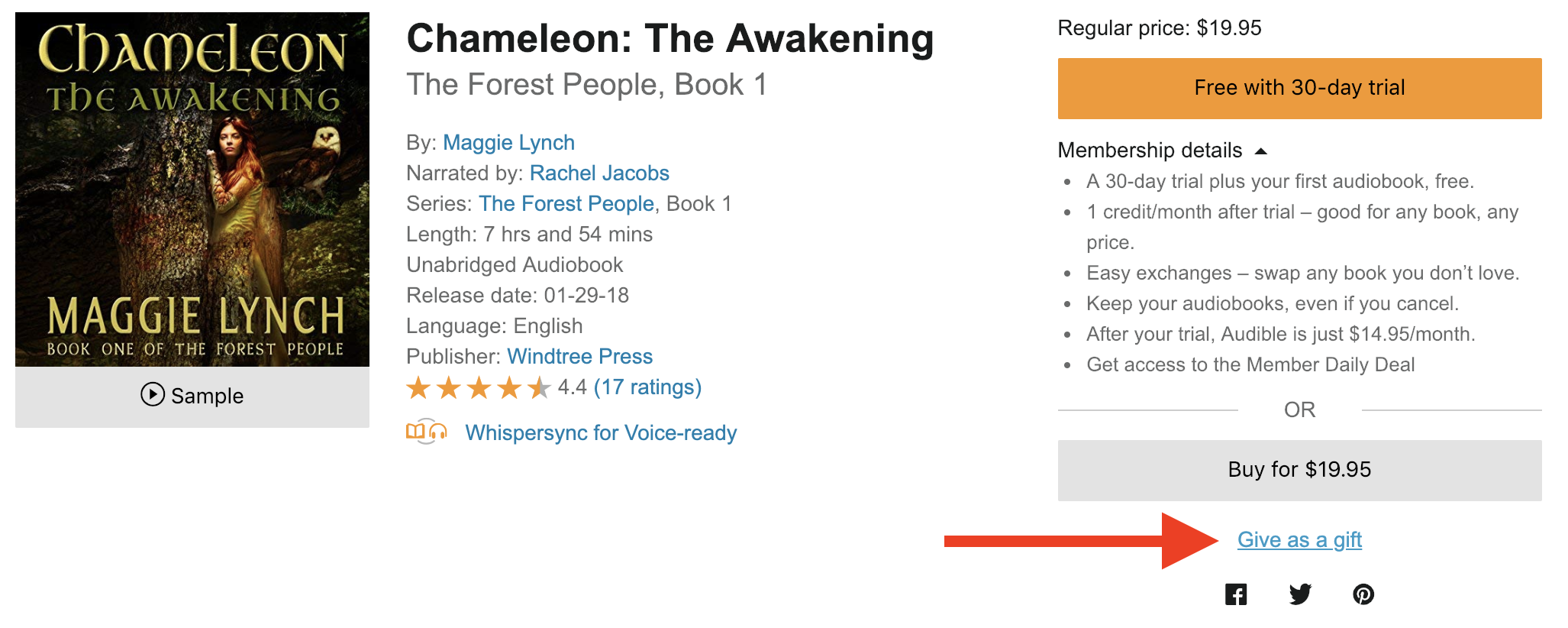 Apple (À la carte)
If your gift recipient uses Apple tech, sending a gift through Apple Books will be one of the easiest ways to get a new audiobook into their hands – er, ears.
To send a book from your Apple device, simply navigate to the Apple Books store, find the book you'd like to send and tap the gift icon. You can even select the date you'd like to send the book, which makes pre-planning gifts a breeze! You can also send an audiobook gift from the iTunes store on a Mac or PC by finding the book and selecting "Gift this Audiobook" from the purchase dropdown list.
If you'd like to give your recipient a choice in what audiobook they receive, you can also send them an iTunes gift card, which can be used in the Apple Books store.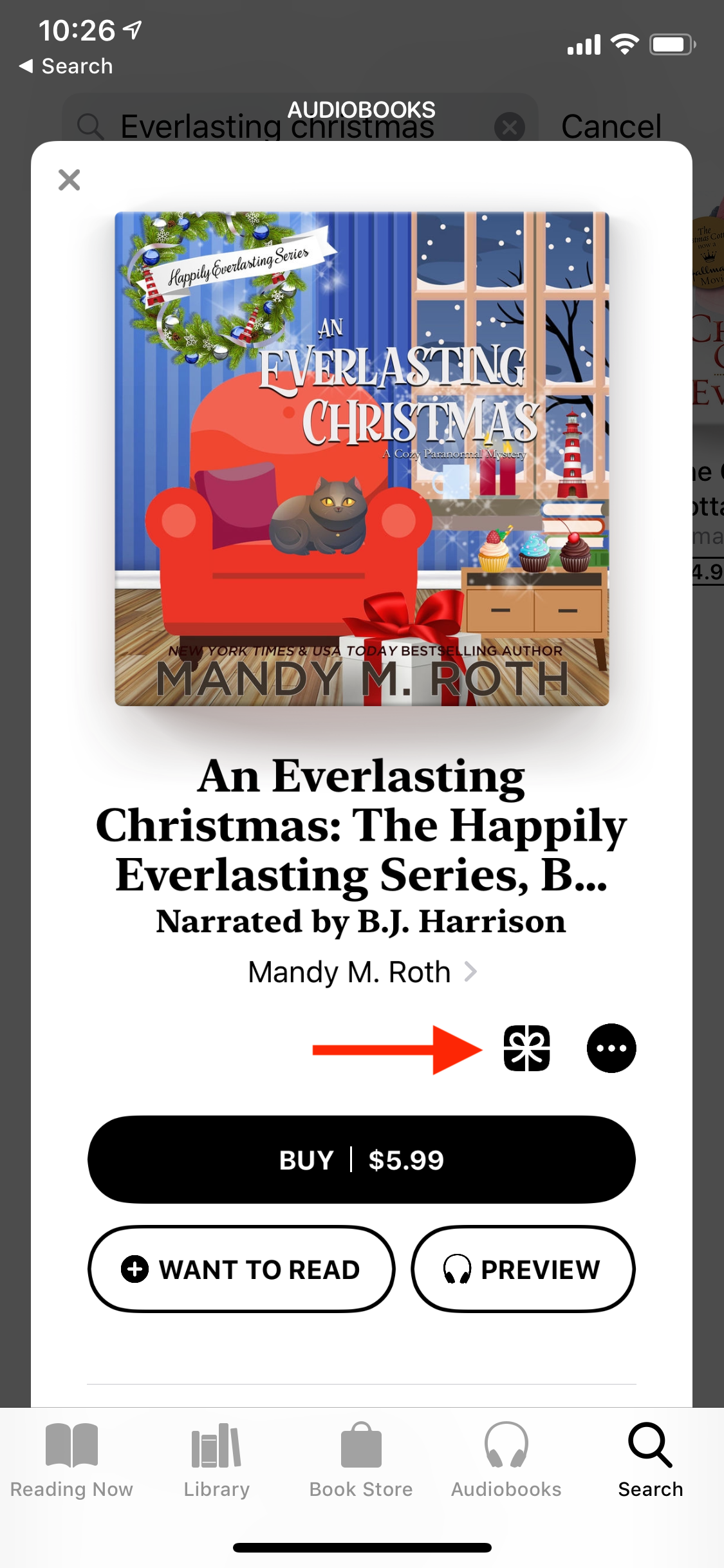 Downpour (À la carte)
Unlike other options on this list, Downpour doesn't specifically offer a gifting option for their audiobooks. However, also unlike many of the options on this list, audiobook purchased from Downpour are DRM-free. This means you can listen to them on any devices, and share them freely. If you'd like to purchase an audiobook gift from Downpour, you can simply make a normal purchase, then send the audiobook files to your gift recipient however you'd like.
eStories (Credit subscription)
eStories is a subscription and credit-based audiobook platform, and makes gift-giving incredibly simple. If you would like to send audiobooks through eStories, simply visit their gifting page. You'll have the option to gift 1 or 3 audiobook credits, and be able to select the date of delivery for the gift. Your recipient will have their choice of over 120,000 audiobooks.
Google Play (À la carte)
The Google Play store is the default way to purchase and listen to audiobooks for most Android users. To send an audiobook through Google Play, simply visit the Google Play store from your phone or computer, find the book you'd like to send, and click "Buy as Gift." You can also purchase a Google Play gift card if you'd like to let them choose their own book.

Kobo or Walmart (Monthly Subscription)
Kobo, the subscription-based audiobook distributor from Rakuten, has one of the largest audiobook and e-book libraries with over 5 million titles to choose from. They're also the group behind Walmart eBooks, which has an audiobook subscription service for $9.99/month, and gives users one audiobook per month.
While Kobo gift cards currently have to be purchased from one of their retail partners, gift cards for Walmart eBooks 3, 6, or 12-month subscriptions can be purchased online and delivered by email. You can also purchase gift cards with varying amounts of money preloaded, if you'd like to let your recipient purchase an individual book from the Walmart eBooks service.
Audiobooks.com (Monthly Subscription)
For Audiobooks.com, the gift-giving process is as straightforward as the name of the website. The website is a subscription-based service, so your gift will be a subscription plan for 1, 3, 6, or 12 months. You can also add a book recommendation to your gift by finding the book in their library and clicking the "Give as a Gift" button. This will add the recommendation to the message of your gift!
Libro.fm (À la carte or Monthly Subscription)
Libro.fm is a subscription platform that allows users to easily purchase audiobooks from their favorite independent bookstores and own the audiobooks DRM-free, meaning that you can access Libro.fm purchases with no device restrictions. Libro.fm offers two gifting options: subscription and individual books. If you have a book in mind, you can simply find that book in their catalog, click "Gift this Audiobook," and send away! If you'd like to gift a subscription instead, you can choose to send a 1, 3, 6, or 12 month subscription from their gifting page.

Nook Audiobooks (À la carte)
Nook Audiobooks is Barnes and Noble's digital audiobook service. At this time, you are unable to gift individual digital audiobooks on Nook Audiobooks, but Barnes and Noble does sell gift cards online, which can be used to purchase audiobooks on CD in-store or online.
Scribd (Monthly Subscription)
Scribd is a subscription service that gives its users access to thousands of ebooks, audiobooks, and magazines. While you cannot gift an individual book through the service, they make gifting a subscription easy! Simple navigate to their gifting page, select the subscription duration you'd like – they offer 3, 6, and 12 month subscriptions– and choose how you'd like to deliver the gift. You are able to email the gift code or print off a card if you'd rather give a physical gift.
Storytel (Monthly Subscription)
Storytel is a subscription service based in Sweden. Gift subscriptions for Storytel can be purchased from their website for 1, 3, 6, or 12 months at a time, and subscribers are able to listen to unlimited audiobooks throughout their subscription.
If you are a current Storytel user, you can also gift an audiobook to a friend who has never used Storytel. From the "My Account"section of the Storytel website, enter your friend's email address, add your gift message – maybe make a recommendation for a book you think they'll enjoy – and send! Your friend will be able to listen to any audiobook in the library for free.
---
Audiobooks and audiobook subscriptions are simple, affordable gifts that will let your loved ones unlock exciting worlds, learn new things, and be entertained for hours on end. Consider giving the gift of reading this holiday season — there's an audiobook out there for everyone!