Today we're excited to announce Voices Plus, a new distribution tier from Findaway Voices.
Starting today, there's a new way to think about your audiobook's distribution strategy with Findaway Voices. Instead of just choosing where to sell your audiobook, you'll also have the choice to opt-in to Voices Plus. When you choose Voices Plus, you'll be getting extra benefits in exchange for committing to only distribute your audiobook through Findaway Voices.
What is Voices Plus?
Voices Plus is an optional distribution strategy for your audiobook. You receive extra benefits in exchange for committing to only using Findaway Voices to distribute your audiobook. It's an opt-in, title-by-title program (it's not all-or-nothing if you have multiple audiobooks with Findaway Voices).
If you prefer to upload your audiobook outside of Findaway Voices to one or more retailers, you should choose the standard distribution option instead. Authors and rights holders who have previously submitted an audiobook with Findaway Voices are currently on the standard distribution strategy.
When you opt in to Voices Plus, you'll receive the following benefits:
Piracy Protection: Since we know everywhere your audiobook should be, we'll handle piracy and DMCA takedown requests on your behalf.
Plus, enjoy 100 complimentary Giveaway Codes instead of 30.
Plus, you'll be first in line for participation in marketing and promotional campaign opportunities.
Plus, we're always working on new features and tools. You'll have the option to preview great new features before anyone else.
Why make a new distribution tier?
As Findaway Voices continues to grow, we want to continue doing more and more for the entire audiobook industry, giving independent authors and small publishers more collective power than ever before. That's why we've introduced Voices Plus.
We believe in wide distribution and we know you do too. By committing to only use Findaway Voices to sell your audiobooks, you're helping us build a catalog of audiobooks that retailers can't find anywhere else. That helps us keep the wide ecosystem strong for all authors.
Together can make the entire audiobook industry stronger for everyone.
---
Voices Plus is available today, and is an optional choice for all audiobooks. To opt-in, just check your audiobook's Distribution page.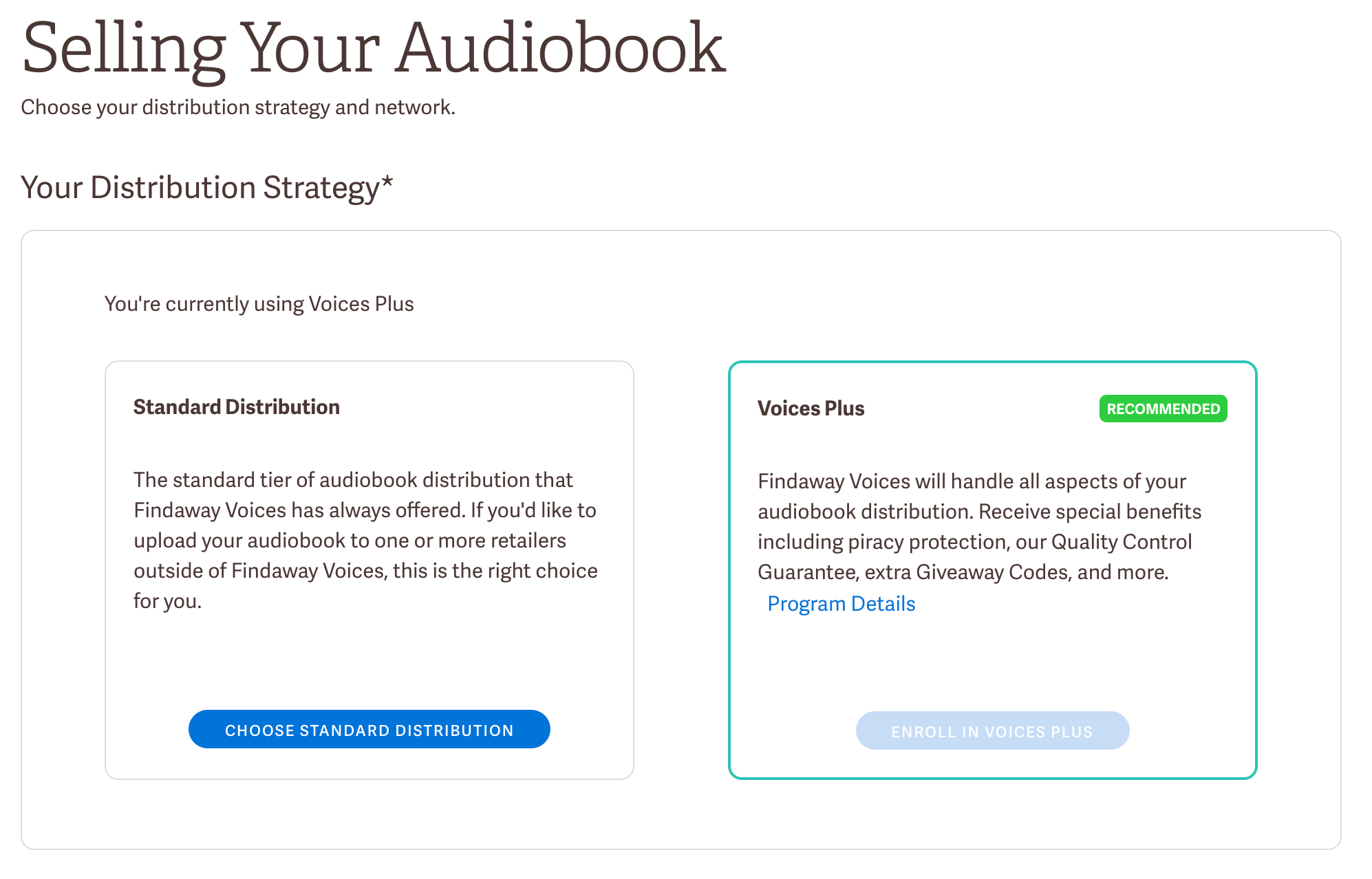 Unsure? If you want to try out Voice Plus, you can switch back to standard distribution any time in the first six months. After that, you'll have yearly opt-out windows around your audiobook's publish date anniversary.
If you have other questions about Voices Plus or your audiobook distribution strategy, we'd love to chat. Contact us at distribution@findawayvoices.com.