Making Your Book Launch Marketing Go Further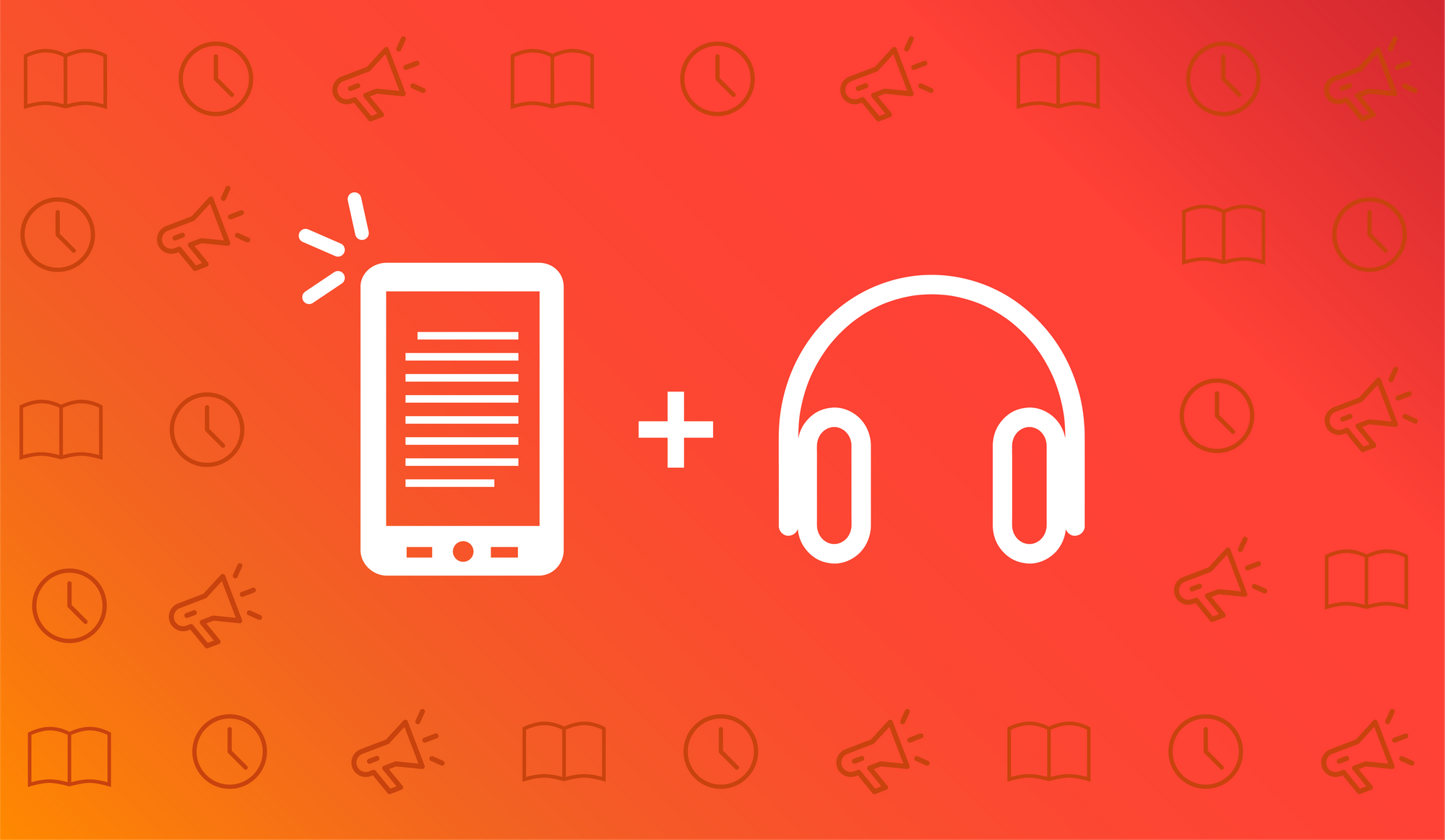 Readers are increasingly crossing over print, eBooks, and audiobooks… your marketing plan should do the same, with simultaneous audiobook releases.
You've lined up your new book launch. Your promos with NewInBooks and BookBub are set to drive big volume. You have your email lists segmented. You have blog posts and newsletters drafted and scheduled. You've teased chapters, created trailers, A/B tested Facebook ads, posted a few fun Instagram stories. The dollars are rolling in thanks to the fantastic pre-sale price you offered.
Excitement for your new release reaches an all-time high, and you see huge success with your book. Congratulations!
10 weeks later you release the audiobook.
Releasing an audiobook weeks (or even months) after your initial book launch is pretty common. After all, you're busy with a release schedule, and producing an audiobook takes weeks after your final manuscript is ready. Or maybe you're working through your backlist, and creating your audiobook catalog for listeners to work through (which you should still do as your build your audio brand… more on that to come). This post is focused on those exciting new releases and helping you get the most out of them.
Simultaneously releasing your eBook and Audiobook is a huge sales driver.
Let's go back to that earlier example where you release the Audiobook weeks after your big launch. That audiobook was released:
After the biggest promotional moment for your book, when your marketing machine was in full force, with discovery services highlighting it, Facebook ads on full blast, and your most ardent fans rushing stores.
After audio-first listeners moved on to other books in your genre that were available in audio.
After format-agnostic fans settled on the lower-priced eBook when they might have bought the higher-value audiobook (or, even better, both!).
After you've already mentally started moving on to your next big release as you continue to build your audience with a deeper catalog.
That last point is especially important. Audiobook marketing can feel like a lot of work for authors — especially the ones that are repeating the work they did for their original book launch!
Great, I'm in. How do I get my audiobook done in time?
You know your book launch schedule—now it's time to take your plan to the next level.
Communicate with your producer.
If you're working with Findaway Voices, make sure you tell our team right away about your eBook launch and timing. This will help define the production schedule and can even influence which narrators our casting team recommends and whether we'd recommend a delayed eBook launch.
Delay your release.
Your narrator will need several weeks to produce your book after it's been fully edited. This is tough for authors who follow the approach of writing and releasing rapidly, but this saves you a ton of effort on audiobook-specific marketing and sets you up for a more impactful launch.
Cast your narrator early.
It can take a few weeks to work through the casting process while you find that perfect voice. Get that process started early on as your story and tone take shape, knowing that your performer will need the final manuscript before they can start recording. Early notice can also help you get favorable studio time lined up.
Don't forget about distribution.
Audiobook distribution is slower than eBooks, and typically takes 1–3 weeks. You'll need that time after you hit publish to see your title for sale in retailers everywhere.
Your new book launch
Now, your fans can find your book in whichever format they'd like. New listener-first audiobook lovers find your audiobooks and join your reader base. More fans cross over and enjoy your higher-priced audiobooks. You use audiobook snippets to backdrop book trailers and release a free 15 minute (commute-length) audio snippet to your audiobook and ebook fans.
The best audiobook marketing plan isn't just about selling audiobooks — a holistic book marketing strategy will build your audience in all formats, and simultaneous release makes that strategy a whole lot easier.