Why I used Kickstarter to fund my audiobook production
A guest post by Joe Solari about how to use crowdfunding to get the funds to produce a high-quality audiobook while at the same time finding new readers and exploring your readers' willingness to pay.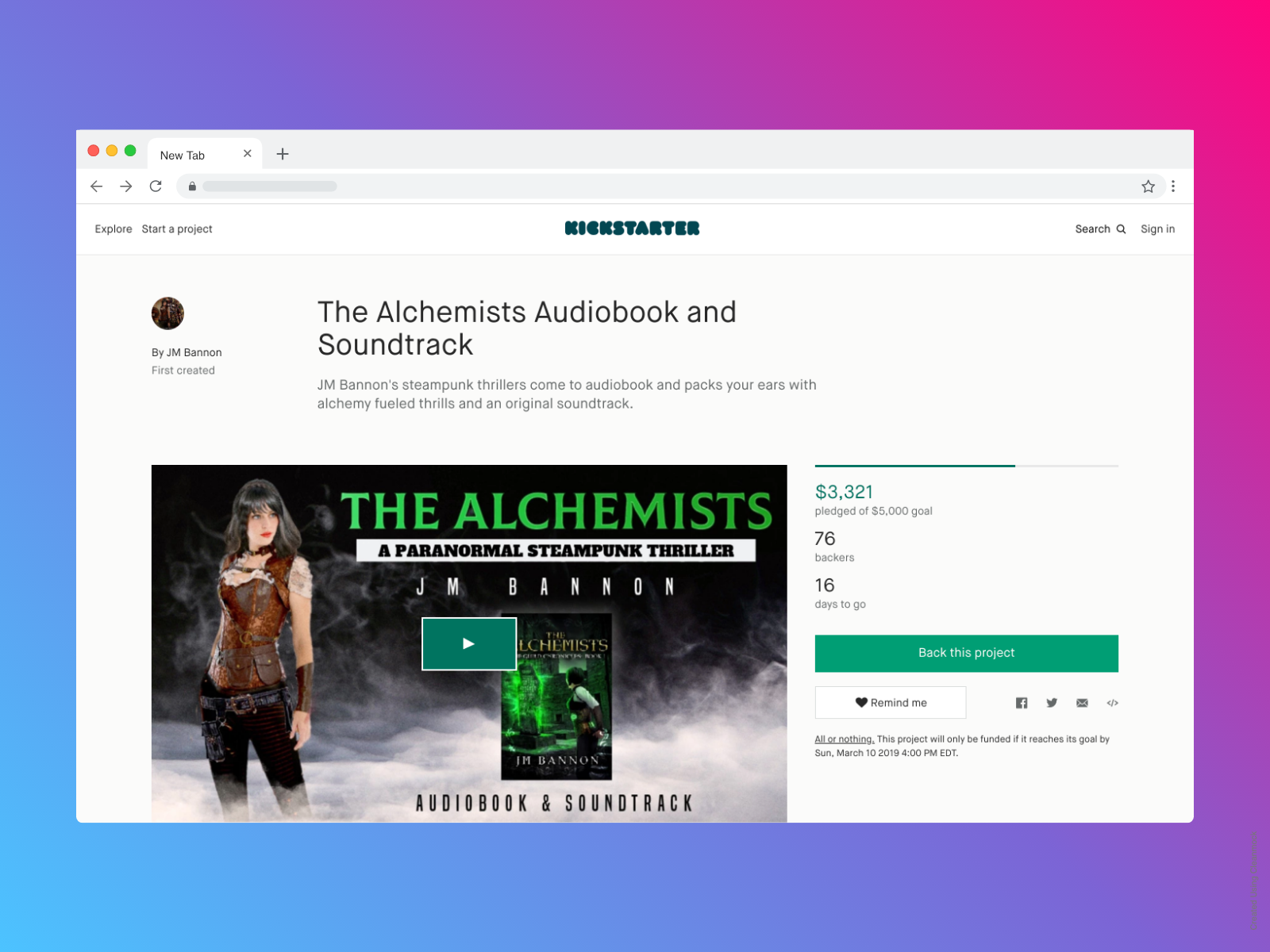 A guest post by Joe Solari.
Have you heard about the growth in audiobooks and your fellow authors raking in the royalties?
Do you feel like you're locked out of this opportunity because you can't afford to fund the production of your audiobook?
I would like to share with you how to get the funds to produce a high-quality audiobook while at the same time finding new readers and exploring your readers' willingness to pay. Along the way, you may also find out that you and your narrator are good collaborators and grow each other's business.
The source of the capital can come from crowdfunding.
What is crowdfunding?
Crowdfunding is a method to get project funding. There are several popular platforms (Kickstarter, Indigogo) that help creators fund projects. What happens is the platform features your project and Backers are prepared to risk an amount of money to help you. This isn't a donation—there is an expectation that you use the money specifically to create what you promise, and the backer gets some type of benefit from their support. Typically, backers get early access or discounted access to the thing you are creating.
Show Me the Money
For an author who self-publishes they may think this is strange to get strangers to give you money. I suggest you look at Michael Sullivan's Kickstarter where he raised $80,000. In his case, this was for print books, not an audiobook, but the point is rather than going print on demand he raised the money to do a bulk print run and to sell specialized book editions. What the project is, isn't as important as if it resonates with the audience enough for them to see value in contributing.
Using Kickstarter to make an Audiobook
Based on being new to fiction writing, my royalties cover my new book production, but in no way give me the capital to hire a quality narrator to read a 70,000-word book.
So, what to do…
I decided to be a test case for getting audiobooks made.
In my circumstances, I found a high-quality narrator through Findaway Voices to suit my Steampunk Thrillers. I planned to make this first book prior to running this test case on Kickstarter. Ana Clements (the narrator) and I have begun production on the book using the Findaway Voices system.
I then reached out to Ana to gauge her interest in running a Kickstarter campaign to raise funds for narration and engineering.  The objective is to get the narrator the money they deserve for the work and as the author maintain my rights to 100% of the ongoing revenue of the intellectual property. Since I have already got the funds to complete the project with or without a successful Kickstarter, I widened the scope of the project to include the production of original music and the ability to get additional audiobooks made if we exceed our goal.
If your project is contingent on crowdfunding to pay for an audiobook you wouldn't start the project. You would however do better if you have settled on a narrator so they can also help you promote the crowdfunding campaign. Find one that wants to participate to make the project a success.
You can check out my Kickstarter campaign here.
Learnings and observations
Narrators are looking to grow their business and find authors they like to build relationships. In Ana I found a partner prepared to help with social media, doing voice-overs for the promotion and participating in Live presentations.
Fans willingness to pay is higher than you think.  I first learned this by the high number of readers from my own mailing list that are already active on Kickstarter.
I now know that there are fans interested are spending money for opportunities to be featured in stories, as well as exclusive rare book editions. I now have a fan base that sees I can deliver value to them between $1 all the way up to $500, with an average pledge of $43.
Crowdfunding is an excellent place to test out new product ideas. There are links below to an interview with Richard Fox and Jon Del Arroz regarding the multiple successful campaigns they have run to bring stories to a graphic format.
I have found a new reader base on this platform. Who doesn't want more readers? There is a large group of people that back technology, games, and graphic novels. Those interested in Steampunk have found my series and see audiobooks as an excellent access point for the story world.
Links to learn more