We are thrilled to announce a major feature update that allows authors to easily retrieve links to their audiobooks at our retail partners.
Our most-requested feature is here! Authors are now be able to retrieve the URL of their audiobook listing(s) at our top distribution partners directly in the Findaway Voices website. This means you no longer have to scour various distribution partners looking for your audiobook.
How Does It Work?
It's easy! Simply navigate to your Marketing tab and click on the Retailer Links section from the top navigation bar. Be sure to read the important information on the website, and then enter your title in the search bar to retrieve the available links.
Am I notified?
Yes! When a new link is found for your audiobook, you will receive weekly email notifications containing new links to retailers that have been found for that audiobook.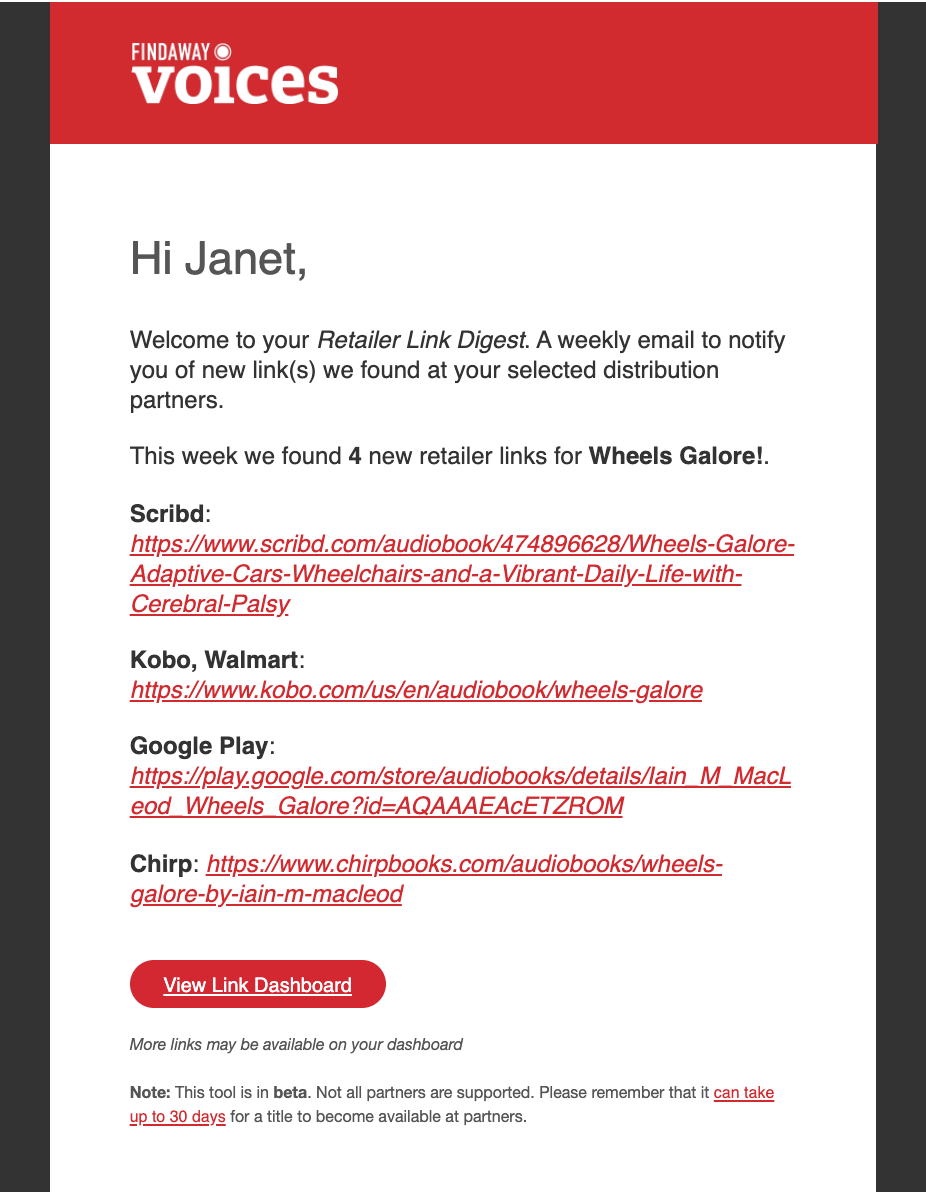 What about my existing audiobooks?
We have you covered. Audiobooks that have been previously distributed are included in this new feature and will return available links when searched for in the website.
New audiobooks will be added to the system as soon as you publish – but remember, it can take up to 30 days for your audiobook to be available at partners, and subsequently, have a URL available in the Retailer Links section of the website.
Is there anything else I need to know?
This feature is in beta, meaning it won't be 100% perfect. We'll be continuously improving the Retailer Links feature as we learn more.
Some other important items to note if you can't find a link you're looking for:
It can take up to 30 days for your audiobook to become available. Some partners occasionally experience longer delays based on volume or other factors (those delays are posted on our website). If your audiobook isn't live yet, there won't be a retailer link available.
Some partners, such as many library partners, do not have publicly available catalogs. These links will not show up on your list.
We're only collecting links for retailers where we're sending your books. If you deselect a distribution partner, there won't be a retailer link available for that partner.
Our customer service team cannot field questions about individual links for individual books. If something is missing, it doesn't necessarily mean your book isn't live there, it just means our automated system hasn't found it. Please help us while the tool is in beta by only contacting us if you believe larger problems are present.