Here's How To Use Headliner To Promote Your Audiobook on Your Social Media Channels
Looking for ways to promote samples of your audiobook? Want to boost the social presence for your audiobook and also add a fun way to engage your audience?
Looking for ways to promote samples of your audiobook? Want to boost the social presence for your audiobook and also add a fun way to engage your audience?
Look no further than the Headliner app. It's easy, quick, and free, and creates an audio sample in a shareable format called an audiogram. Audiograms act as a video clip that lets viewers know that audio is playing on your post. This way, they're much more likely to stop, unmute, and engage with your content.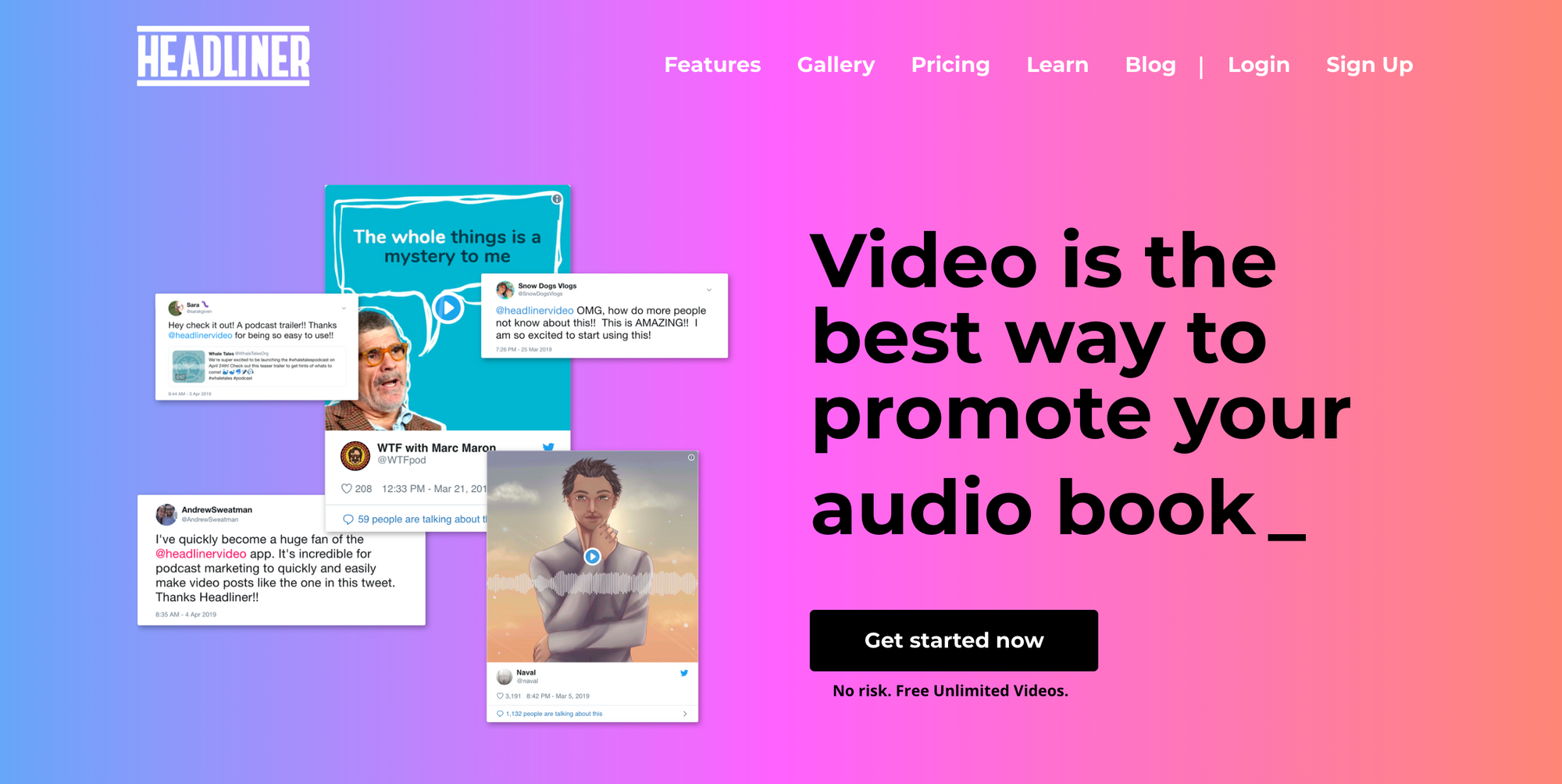 Check out these four great examples of Headliner audiograms at play, or skip to the end of this post for a quick how-to video to get started creating your own audiograms.
Example #1: Audiogram for an Audiobook
This is a perfect example of an audiobook narration using Headliner.
Here, we see the audiogram directly below the title. If someone is scrolling in Facebook, they'll see the audiogram moving, and know that audio is playing, which makes them much more likely to turn up the volume and listen.
Example #2: Plain Audiogram
This example is another great use of Headliner audiograms. Here, you will notice the minimalist approach to the background image and text, which leaves room for the subtitles at the bottom.
We like the thin line format and also how much of the post it takes up, making it easy to notice as someone is scrolling through a feed.
Example #3: Another Type of Audiogram Format
In this example covering circadian rhythm chronotypes, it is not only an awesome  showcase of Headliner, but also something we could all use a little bit of: tips for staying consistent with our content creation.
As with the previous video, you can see the audiogram toward the top of the image, as well as the captions at the bottom. A perfect way to get someone to stop and listen.
Example #4: Minimalist Audiogram
In this final example showcasing an education-type podcast, you'll notice the audiogram is red and sits toward the bottom of the image. This is great for minimal-text posts and full-size images as your backdrop. If it were us, we would make the audiogram slightly larger to capture the attention of the viewer.
The Free Version of Headliner Has Everything You Need
That's it for the examples. As for the app itself, there are three different pricing tiers to the Headliner app. We recommend the free tier.
With the free tier, you'll get ten videos per month, unlimited watermark videos, transcriptions, and you can share directly to social networks. Plus, it's uploaded into 1080p quality.
Now, let's finish off with how to create an audiogram for yourself.
Quick How-To for Headliner (with Video)
Here is how to make an audiogram for your audiobook content using Headliner's audiogram wizard:
Select your audio. Choose start and end duration, (for Instagram, make it less than 60 seconds, and for Facebook, you don't have to worry about the length).
Next, choose your aspect ratio (we suggest 'landscape' for Facebook and Twitter, and 'square' for Instagram).
Then, customize wave color, wave type, wave position, and background image. Then it will generate an audio transcript, where you can adjust the size, color, and location of the text. This way you can have your audiobook shareable in a cinch!
Conclusion
And there you have it! A few awesome use cases and examples of how to use the Headliner app for free to promote your audiobook on your social channels.
Make sure to check out our other content if you want to learn how to master your audiobook or if you want to hear some samples of some fantastic audiobooks from this past season. Check us out on social and if you're ready to upload your audiobook, click here to get started!